As recently teased by Epic, a fresh Fortnite x Naruto crossover is here.
Part of Tuesday's Fortnite v21.10 update, it brings a selection of new "Rivals" gear, plus a community challenge where players can earn some free goodies.
First up, let's talk skins:
Joining Team 7 in Fortnite are four new Outfits, each with extra style options. Itachi Uchiha, Gaara, Orochimaru, and Hinata Hyuga arrive in the Item Shop at 8PM ET, June 23.
There will also be plenty of matching Back Blings, Pickaxes, and Gliders up for grabs. Items will be available individually or at a discount in various bundles.
The Nindo 2022 – Free Cosmetics
Take part in this latest community challenge to unlock a host of Naruto-themed rewards. To sign up and track your progress, go to The Nindo website and log in with your Epic account.
There are four separate paths to complete, each with their own unique rewards. Collect badges as you make progress towards the challenge.
PATH OF ITACHI: EVERY 5 TOP-6 FINISHES = 1 BADGE
PATH OF GAARA: EVERY 24 STORM CIRCLES SURVIVED = 1 BADGE
PATH OF HINATA: EVERY 20 FISHES CAUGHT = 1 BADGE
PATH OF OROCHIMARU: EVERY 18 ELIMINATIONS = 1 BADGE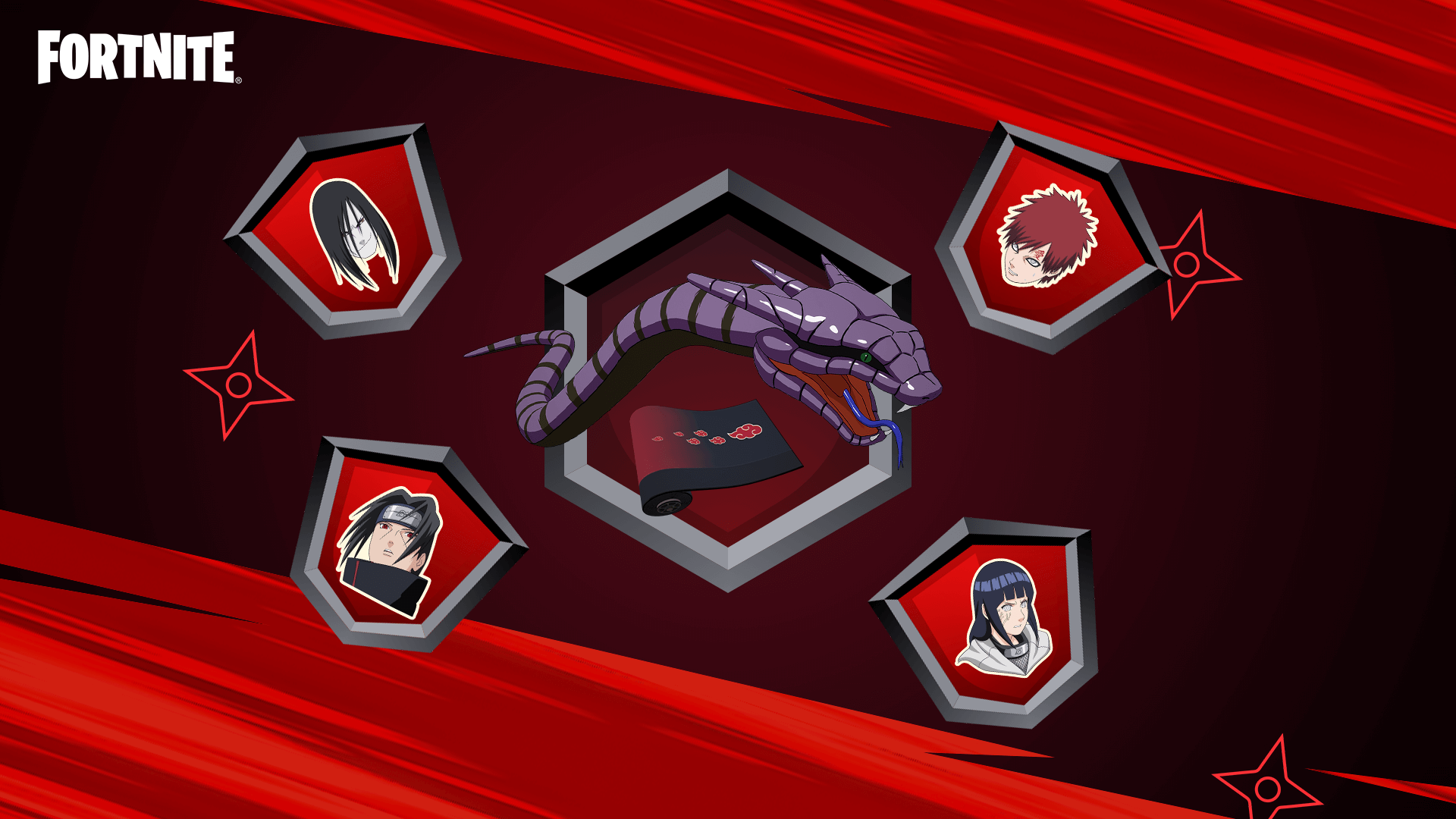 Rewards
One badge in the Itachi path unlocks the Shocked Itachi Emoticon.
One badge in the Gaara path unlocks the Focused Gaara Emoticon.
One badge in the Hinata path unlocks the Byakugan Hinata Emoticon.
One badge in the Orochimaru path unlocks the Orochimaru's Smile Emoticon.
Five badges of one path unlock 20,000 XP. You can earn up to 80,000 XP total by unlocking all five badges of all the paths.
Ten badges of any of the paths unlock the Akatsuki Wrap.
Complete all four paths to claim the final reward of the Manda Glider.
The Nindo challenge is live now and runs until 11:59PM ET on July 7. You can work through these paths in both Fortnite Battle Royale and Zero Build.
Time to grind! Wondering what big collab might be next? This recent player survey may hold the answers.