Fortnite has been responsible for some of the biggest pop culture crossovers in gaming history. From in-game concerts with music superstars, to Marvel-themed POIs and Battle Pass skins, we've seen it all!
But Epic is showing no signs of slowing down. With Chapter 3 and Zero Build bringing a new lease of life to the Battle Royale, it will look to continue capitalising on what is undoubtedly a massive source of revenue for Fortnite.
In a recent survey sent to players, the developer asked fans to choose what potential future collaborations excited them most. Thanks to @Guille_GAG on Twitter, we can see all of the various options in one place: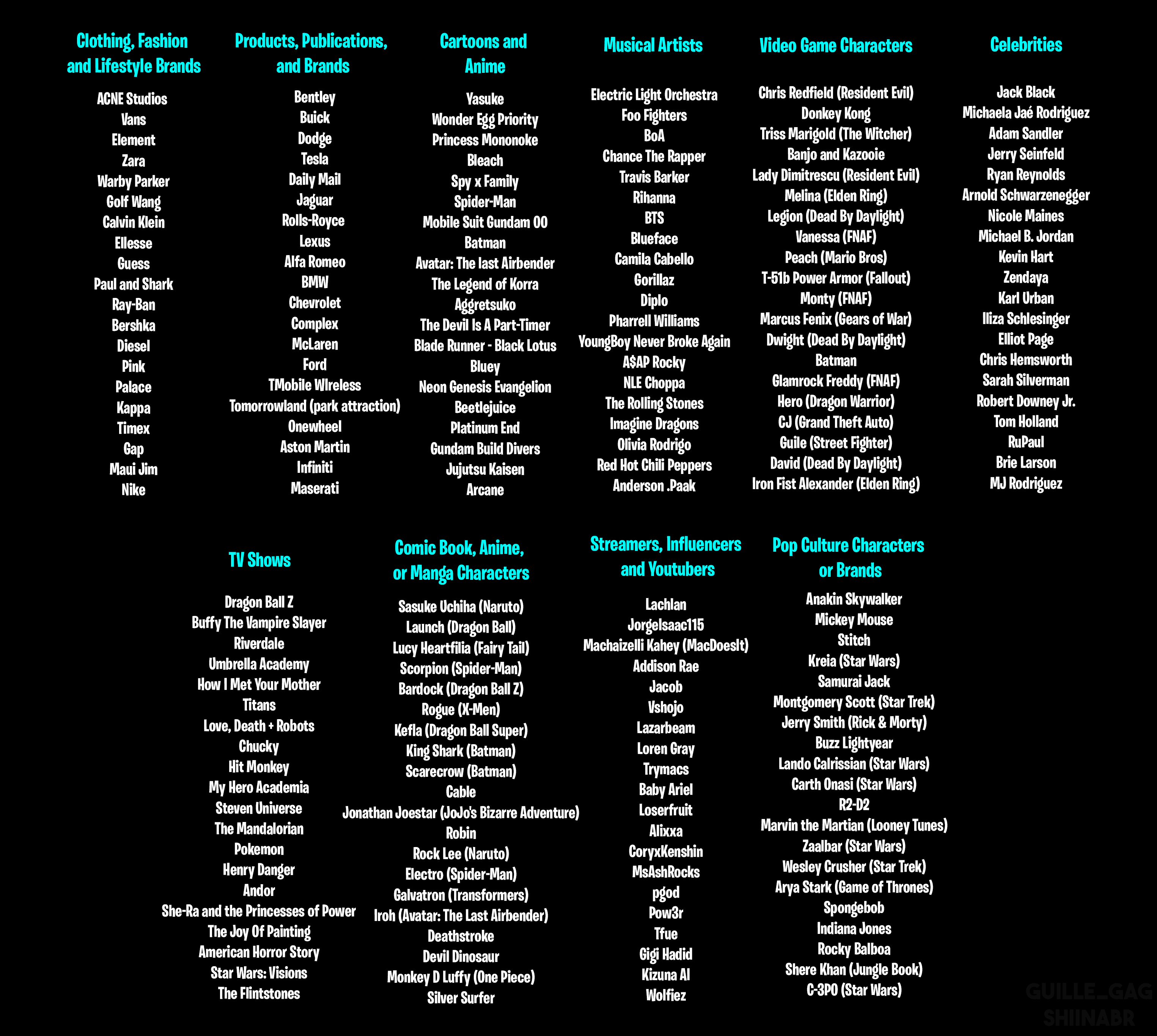 To me, one of the most interesting categories on there is "Products, Publications and Brands". Why? Because though there are some outliers, the vast majority of brands on the list are automobile manufacturers.
This suggests that Epic has its eyes set on another car-based collab. Last summer, they shocked everyone by teaming up with Ferrari to celebrate the release of the 296 GTB plug-in hybrid.
The partnership included a selection of branded cosmetics, but most memorably, the Ferrari was temporarily available to drive as a vehicle in matches. It would be awesome if we got something similar this year.
Tesla is one of the companies on the list. Marketing inside Fortnite seems right up Elon Musk's street; you could even imagine them doing something crazy like a hover car.
Elsewhere on the graphic is a list of TV shows. Among the popular series are Pokémon, My Hero Academia, and Dragon Ball Z.
If Epic went all in on a Pokémon collab it could be mind-blowing. They could use the existing wildlife system to create a Pokémon GO style experience on the Fortnite Island.
Fortnite x Naruto Shippuden: Rivals! has already been teased for June, 23. No one is quite sure what this mash up will entail, though we are expecting more Outfits at the minimum.
While many are still hoping for Family Guy's Peter Griffin to get the Fortnite skin treatment, he wasn't on the survey this time around. Plenty of other fictional characters from the worlds of film, TV, and gaming were mentioned, however.
As for the next concert, Rihanna, Chance The Rapper and Olivia Rodrigo are all in contention. It's been almost a year since the Rift Tour featuring Ariana Grande, so we're due another of these immersive, in-game events.
Of course, there's no guarantee that anything from the survey will actually make it into Fortnite. A lot goes into bringing these deals to life, and it can take a long time to execute.
With that said, we've seen survey answers end up inside the game in the past. Epic definitely takes this data into consideration, so there's no harm being optimistic if you see something you love.