Play in the Obi-Wan Kenobi Cup this weekend and you could win yourself a new Outfit.
With leaks suggesting that Darth Vader may be headlining next season's Battle Pass, the force had to be balanced. In yet another major collaboration, Star Wars hero Obi-Wan Kenobi is coming to Fortnite.
The new Obi-Wan Kenobi Outfit arrives in the Item Shop at 8PM ET on Thursday, May 26. Additionally, the legendary Jedi Master will be accompanied by a selection of matching cosmetics.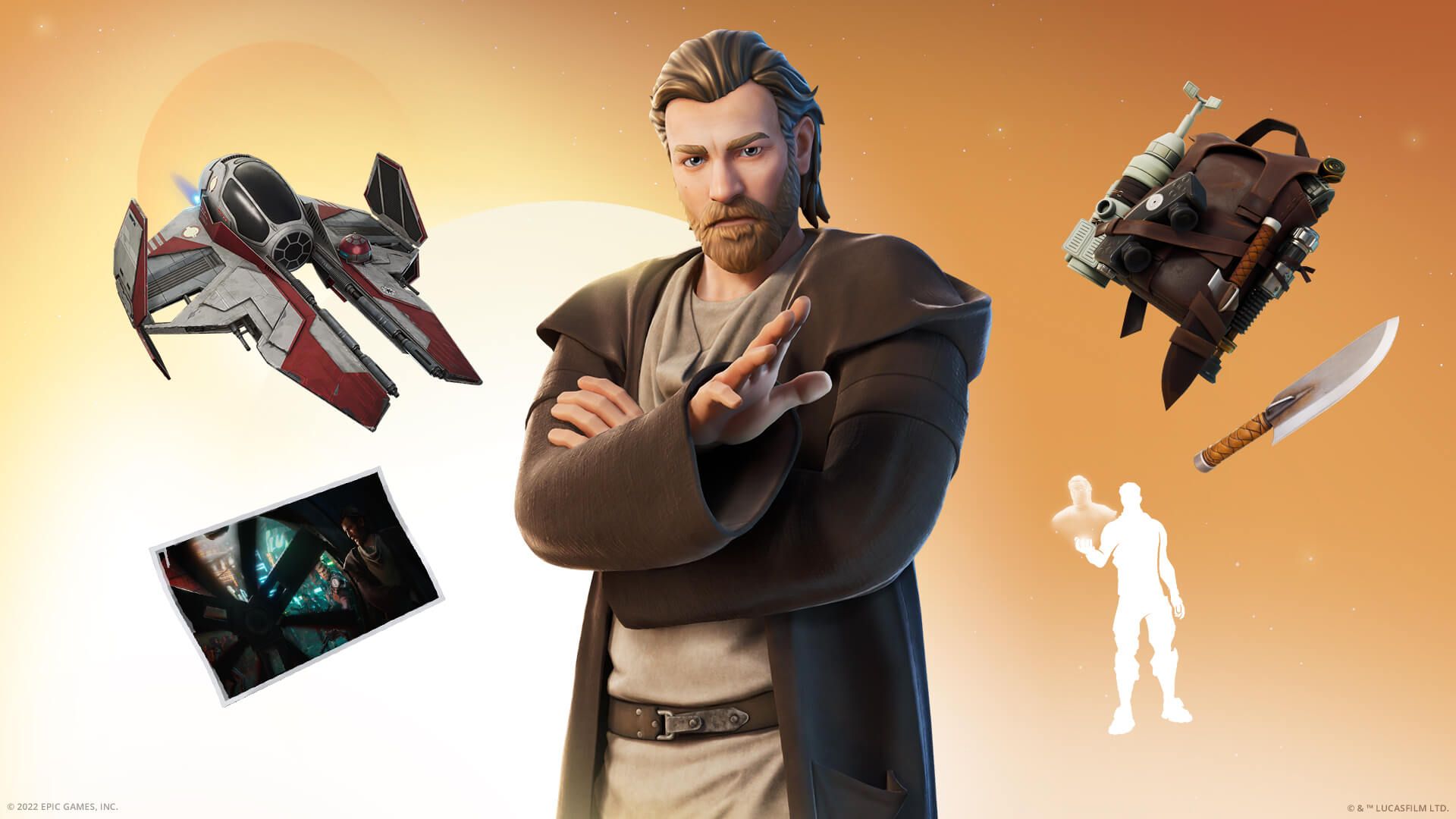 Pick up the skin, Obi-Wan's Blade Pickaxe, Desert Essentials Back Bling, Jedi Interceptor Glider, and Obi-Wan's Message Emote at a discounted rate in the Obi-Wan Kenobi Bundle, together with the Kenobi, Surrounded Loading Screen. Alternatively, grab the specific items you want separately.
Obi-Wan Kenobi Cup
On Sunday, May 22, grab a Duo and compete in the Obi-Wan Kenobi Cup for a chance to win the new Outfit and Back Bling early (and FREE). This event will be in Battle Royale mode so building is enabled, plus Lightsabers and E-11 Blaster Rifles are also available.
Teams will have three hours to complete a maximum of 10 matches. Points are awarded for both eliminations and placement, as shown below:
Scoring
Victory Royale: 25 Points
2nd: 22 Points
3rd: 20 Points
4th: 18 Points
5th: 17 Points
6th: 16 Points
7th: 15 Points
8th: 14 Points
9th: 13 Points
10th: 12 Points
11th: 11 Points
12th: 10 Points
13th: 9 Points
14th: 8 Points
15th: 7 Points
16th: 6 Points
17th: 5 Points
18th - 19th: 4 Points
20th - 21st: 3 Points
22nd - 23rd: 2 Points
24th - 25th: 1 Point
Each Elimination: 1 Point
Only the top performing Duos in each region will unlock the Obi-Wan skin, so be sure to keep an eye on our live leaderboards. Here's where you need to place:
Prizing
Europe: Top 1,250
NA East: Top 750
NA West: Top 250
Brazil: Top 400
Asia: Top 150
Oceania: Top 100
Middle East: Top 100
If this is your first tournament, make sure that both you and your duo have Two-Factor Authentication set up on your Epic account. You will need to be at Epic account level 50 or higher. This is not the same as your Battle Pass level and you can view it inside Fortnite via the "Career" tab.
For more information and full entry requirements, check out the Obi-Wan Kenobi Cup Official Rules.