Welcome to Chapter 4 and the new competitive update. This Season, Fortnite will continue the Fortnite Divisional Cup weekly offerings, return to FNCS online competition, and introduce new competitive offerings such as Victory Cups, Fill Cups, Zero Build Cups, Collegiate Cups, and more!

Keep reading to find out more!
HYPE RESET
The hype has reset back to zero with the new Season's launch. Similar to last Season, you need to reach the Contender Rank to be eligible to compete in cash-prized tournaments. Zero-build competitions are open to all players and do not require any Arena ranking to compete.
FORTNITE DIVISIONAL CUPS
We will continue to see the Divisional Cups in Chapter 4, Season 1. The tournament will be in duos, and your goal should be to reach the Elite Cups, where cash prizes are awarded.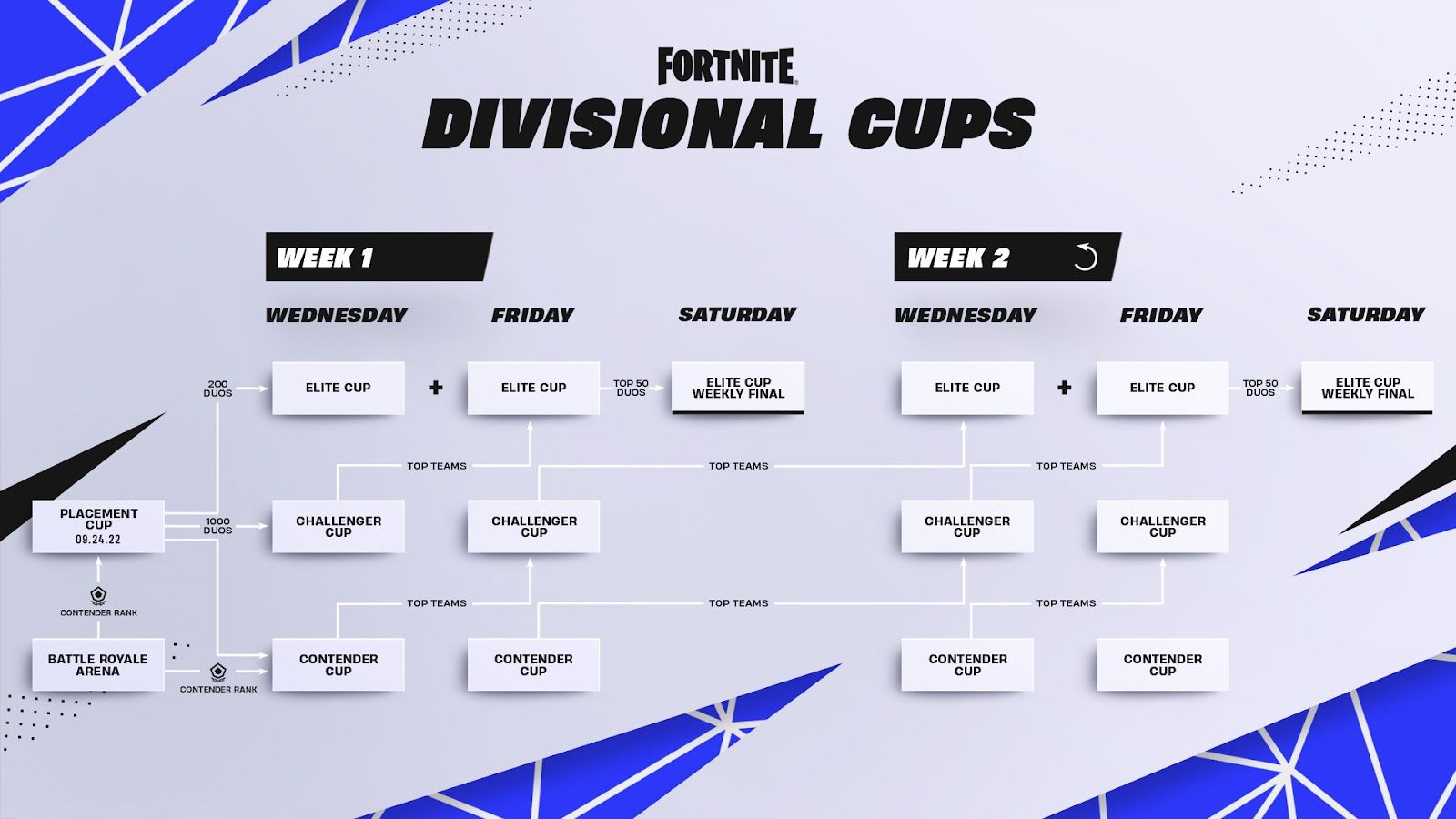 Fortnite Divisional Cups begin on January 4, 2023, and will take place each week for players who qualify for the Contender, Challenger, or Elite Divisions. In all regions, there will be two days of Fortnite Divisional Cups per week, on Wednesdays and Fridays. Elite Divisional Cups will not take place during FNCS weeks.
For Elite Division players, scores are combined across both Wednesday and Friday. However, Elite players must compete on Day 2 of the Elite Cups to be eligible to participate in the Elite Cup Weekly Final on Saturday evenings. You will only be able to compete in one region's competitive offerings this season, so choose your region carefully!
PLACEMENT CUP
On December 10, compete in this Season's Placement Cup to qualify in your region for one of the three Fortnite Competitive Divisions: Contender, Challenger, and Elite. To access this tournament, you must earn the rank of Contender in Battle Royale Arena before the tournament begins. Players will compete in Battle Royale Arena Duos over two rounds, with the top 1400 Duos qualifying for Round 2. In Round 2, 200 Duos will earn their spot in the Elite Division, and 1000 Duos will make their place in the Challenger Division.
For NA East and NA West, only 100 Duos will qualify for Elite Division, and 500 Duos will be eligible for Challenger Division from the Placement Cup this Season.
FNCS
Online FNCS competition returns this Season! FNCS will take over Elite Divisional Cups for five weeks this Season, and players that earn Elite Division will unlock participation in FNCS. Grab your duo and prepare for your FNCS journey to begin on February 3, 2023. We will have more details in January for this FNCS and the rest of 2023.
ADDITIONAL COMPETITIVE OFFERINGS
DUOS FILL CUP
Looking for a new teammate? Drop into the all-new Duos Fill Cups on Wednesdays for Zero Build and Saturdays for Battle Royale. Play each match paired with a different Duos partner at similar earned points and similar skill levels.
ZERO BUILD CUPS
Zero Build Cups are back! Fortnite will host two Zero Build Duos Quick Cups weekly on Wednesdays and Fridays. Be ready to Fill with a different teammate each match in the Zero Build Quick Cups on Wednesdays, and grab a Duos partner for the Zero Build Quick Cups on Fridays! Fortnite will also offer a weekly Zero Build Squads Cash Cup every Saturday, with cash prizes available to the top competitors.
VICTORY CASH CUPS
This season Fortnite will offer Solo Victory Cash Cups on Saturdays and Sundays to feature a new prizing format! Qualify to Round 2 and earn prizing per Victory Royale as opposed to the cumulative scoring overall matches. This is an exciting new way to earn prizes in Fortnite competitions for players of all skill levels throughout a tournament.
FORTNITE COLLEGIATE CUPS
At the start of the spring 2023 semester, Fortnite will continue offering monthly competitions exclusively for college students in the United States and Canada, with cash prizes and in-game rewards. They will also provide more opportunities throughout the spring semester through competitive scrimmages, third-party tournaments, and school-hosted competitions.
Register and verify your student status at fn to secure your spot in the upcoming spring 2023 semester events in January and February. gg/ScholasticRegistration. Among other requirements, players must submit current school transcripts and be 18 or older to participate.
CONSOLE COMPETITIONS
In Chapter 4, Season 1, Fortnite will continue the Seasonal offering of a Console Champions Cup. In partnership with PlayStation, they will continue providing monthly prized Fortnite PlayStation Cups this January and February with additional in-game cosmetic rewards!