The Fortnite PlayStation Cup is back for July with an exciting twist!
Starting July 7, PS4 and PS5 players can play in 3 weekly Qualifier Cups, before the PlayStation Cup Finals on July 24. Cosmetics will be up for grabs during Qualifiers, and there's a whopping $230,800 prize pool for Finals.
It's all Solos, so get practicing. The first two Qualifiers will have unique rulesets, but Qualifier 3 and Finals will be standard competitive settings:
Qualifier 1: Architect mode (edit enemy builds) - Top 33 qualify to Finals
Qualifier 2: Starting Loadout mode (spawn with weapons) - Top 33 qualify to Finals
Qualifier 3: Standard Competitive mode - Top 34 qualify to Finals
Each Qualifier will be a three-hour session in which players can complete a maximum of ten matches. Points are awarded for both placement and eliminations as follows:
Scoring System
Victory Royale: 30 points
2nd: 25 points
3rd: 22 points
4th: 20 points
5th: 19 points
6th: 17 points
7th: 16 points
8th: 15 points
9th: 14 points
10th: 13 points
11th - 15th: 11 points
Each Elimination: 1 point
The Finals will be a set lobby with six matches. Scoring is pretty much the same except eliminations are worth 2 points apiece.
Check local tournament start times and track your performance via our live Fortnite PlayStation Cup leaderboards.
Finals Prizing
EU
1st: $2,000
2nd: $1,800
3rd: $1,700
4th: $1,600
5th: $1,500
6th: $1,400
7th: $1,300
8th: $1,200
9th: $1,000
10th: $800
11th - 20th: $600
21st - 30th: $500
31st - 60th: $400
61st - 100th: $200
NAE
1st: $1,600
2nd: $1,400
3rd: $1,300
4th: $1,200
5th: $1,100
6th: $1,000
7th: $900
8th: $800
9th: $700
10th: $600
11th - 20th: $500
21st - 50th: $400
51st - 100th: $200
You can see a full prize pool breakdown for all other regions in the Official Rules.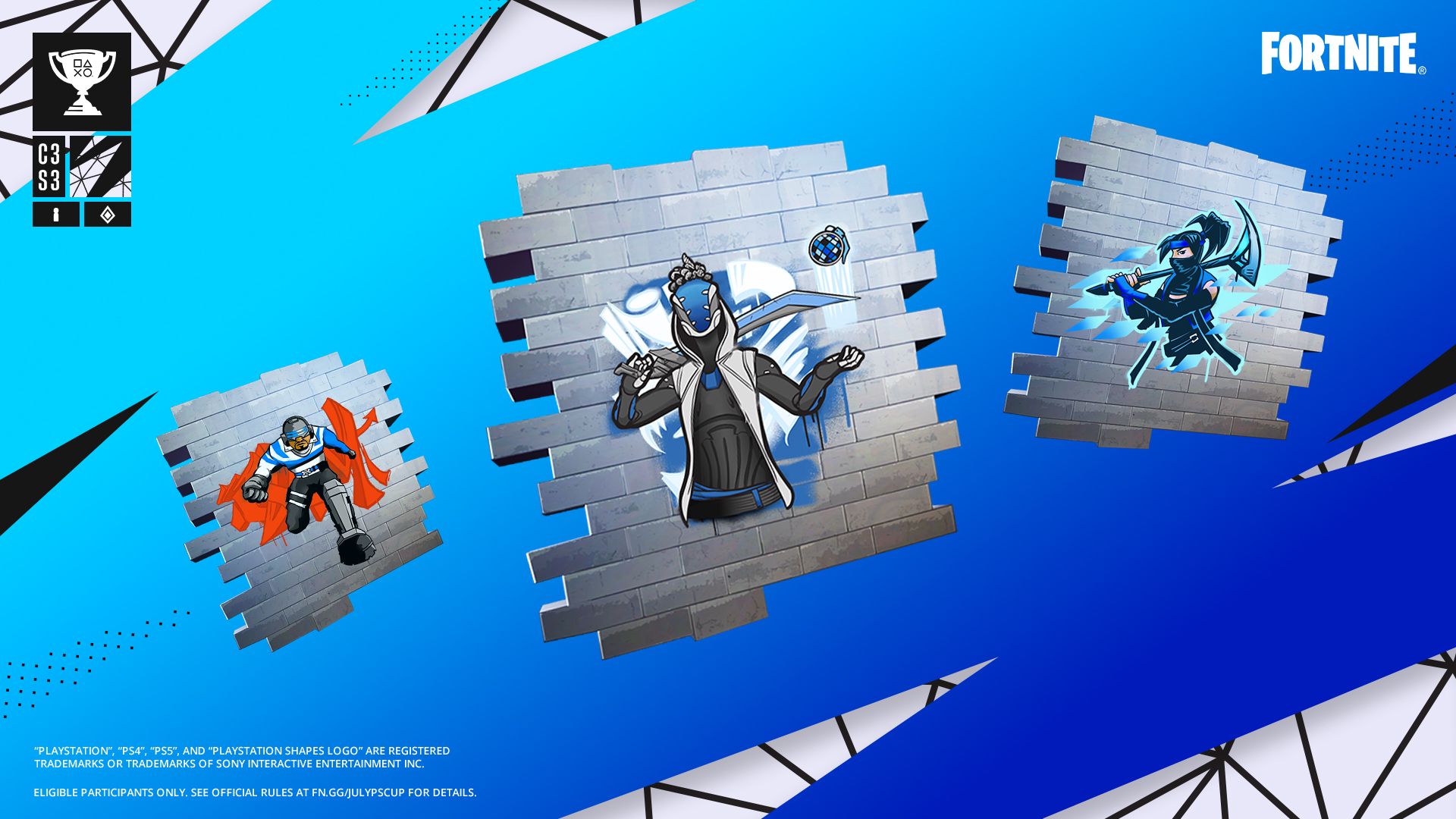 Anyone who scores at least eight points in the Qualifier Cups will unlock a unique Spray.
Qualifier 1: Falcon Stance Spray
Qualifier 2: Boogie Force Spray
Qualifier 3: Blue Striker Spring Spray
There is no minimum Arena rank requirement for this event, however your account must be level 50 or higher (check this in-game via the Career tab). Additionally, you'll need to have Two-Factor Authentication enabled on your Epic account.