The FNCS Grand Royale is shaping up to be one of the most exciting tournaments yet from both a spectator and player perspective.
Coming later in Season 8, the Fortnite FNCS Grand Royale is the biggest event of the year. In fact, with over $5,000,000 on the line, it's the biggest Finals lobby prize pool we've seen since the World Cup!
The event was originally teased during the summer and comes on top of the standard FNCS tournament that kicks off this week. Epic has now released full details about what we can expect from the Grand Royale:
Qualification
Firstly, let's take a look at how you can earn your spot. Any eligible player who has made it to Round 4 of an FNCS Qualifier, FNCS Semi-Finals, or Finals this year (Seasons 5,6,7,8) will be able to form a Trio and take part.
Additionally, although its not confirmed, it seems like there may be an Open Qualifier in November as a last chance to get in. In their official blog post, Epic stated "If you didn't quite make it into the FNCS Grand Royale we plan on having additional activities you can participate in leading up to the event".
They did something similar with the FNCS All-Star Showdown Play-In earlier in the year. So, if you don't yet reach the requirements and don't manage to pop off in FNCS this season, keep an eye out for more news on this.
Prizing
In each region, only the top 33 teams will end up making money. Check out the total prize pools below as well as a detailed breakdown for EU and NAE.
EU Prize Distribution
1st: $600,000
2nd: $450,000
3rd: $270,000
4th: $180,000
5th: $120,000
6th: $90,000
7th: $75,000
8th: $60,000
9th: $54,000
10th: $44,400
11th-15th: $19,500
16th-20th: $15,000
21st-25th: $12,000
26th-33rd: $9,300
NAE Prize Distribution
1st: $285,000
2nd: $210,000
3rd: $126,000
4th: $84,000
5th: $54,000
6th: $42,000
7th: $36,000
8th: $30,000
9th: $24,000
10th: $19,500
11th-15th: $9,000
16th-20th: $6,900
21st-25th: $5,850
26th-33rd: $4,500
Full prize pool splits for every region can be found in the FNCS Grand Royale Rules.
Format
Though it may seem a bit intimidating to look at, the Grand Royale layout isn't actually too complicated. The action will take place across two weekends, with an interesting twist to the Finals scoring.
Week 1
It begins with the "Load Session" on Friday, November 12. All qualified teams will take part in an open 3-hour session, trying to score as many points as possible from 10 matches. After this, the top 33 teams will progress to the "Victory Path", and everyone else to the "Reload Path".
On Saturday 13 and Sunday 14, those on the Victory Path will compete across four total sessions, each consisting of 8 matches. Win any of these 32 matches to secure a place in the Finals.
Over the course of the weekend, Reload Path trios will have three chances to move over onto the Victory Path to fight for a spot in the Finals. Finish in the top 8 at the end of any Reload Path session to progress. The earlier you move across, the more opportunities you will have to get that Victory Royale and qualify for Finals.
Additionally, teams who place 2nd-10thin Victory Path matches will accumulate Consistency Points. The trio with the most Consistency Points at the end of Session 4 will take the 33rdposition in the Finals.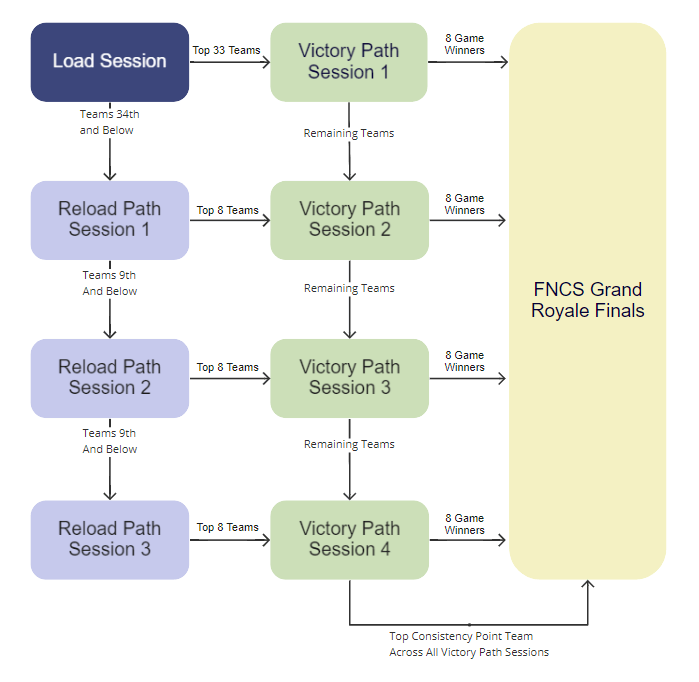 This image from Epic Games gives a nice visual representation of the structure.
Week 2
The Fortnite FNCS Grand Royale Finals take place November 20-21, with six matches on each day. To spice things up a little however, all points are worth double on Day 2!
Scoring
Victory Royale: 30 Points (60)
2nd: 26 Points (52)
3rd: 24 Points (48)
4th: 22 Points (44)
5th: 21 Points (42)
6th: 20 Points (40)
7th: 19 Points (38)
8th: 18 Points (36)
9th: 17 Points (34)
10th: 16 Points (32)
11th: 14 Points (28)
12th: 13 Points (26)
13th: 12 Points (24)
14th 11 Points (22)
15th: 10 Points (20)
16th: 9 Points (18)
17th: 8 Points (16)
18th - 24th: 5 Points (10)

Each Elimination: 2 Points (4)
Details on the official broadcast, potential Twitch drops and more will likely be posted closer to the time.