Epic Games recently announced that they would be delaying the launch of season 2 to align with the new physics engine
Fortnite utilizes Unreal Engine, a home-crafted tool to provide structure to video games. However, within the next few weeks, the underlying physics engine Fortnite currently uses will be getting a touch-up. The new physics system goes by the name of "Chaos" - which sounds ominous yet very promising
Epic Games has assured the public to not worry about the backend changes - they're not trying to change the beloved cash-cow of a game. A representative wrote in a blog post, "At launch, the goal is to ensure that Fortnite still feels like Fortnite. Along the way there will be some bumps, so we're starting tests with a small group of players. We'll also closely monitor feedback and make improvements over time."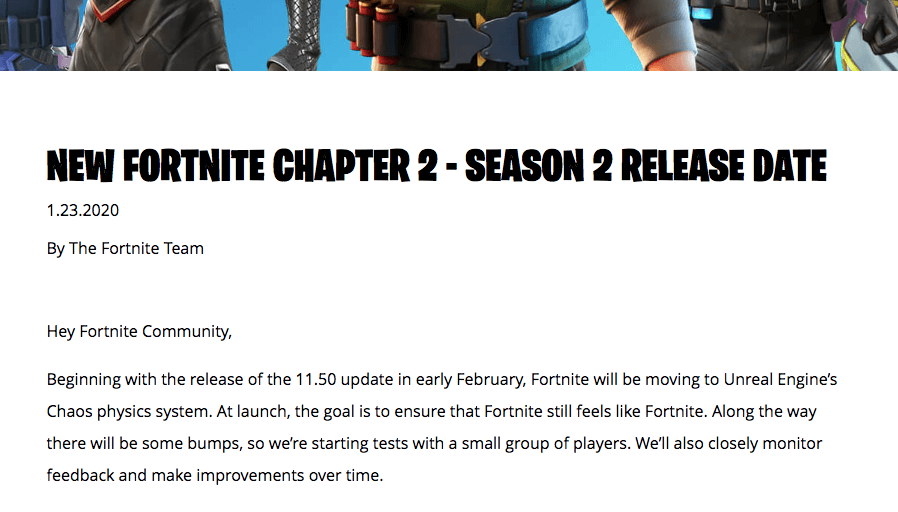 We have an update on Chapter 2 - Season 1 and when to expect the next season.

Read more: https://t.co/RkuJetQKEe

— Fortnite (@FortniteGame) January 24, 2020
As much as I appreciate continuity, I would be lying to you if I said I wholly believe nothing will feel different at launch. Back in August of 2019, just after the largest global Esports event (World Cup Finals), Epic dropped a bombshell update that changed turbo building. The original goal was to reduce ping dependency as a factor of success, but the consequences changed building as a whole
It was so devastating to the competitive community - so much so that one of the most upvoted posts on the subreddit is three simple words: Revert. Turbo. Building.
Revert turbo building from r/FortniteCompetitive
You see, what Epic Games considered a relatively small change to combat one aspect of competitive play absolutely turned over the entire meta. A physics change, which at first glance seems innocent, may initially come with a slew of bugs and unintended side-effects
I am cautiously optimistic - these structural changes are necessary for longevity… But don't be surprised if there's some Chaos in the short term ;)
Follow us on Twitter to keep up to date on everything Fortnite!