A collaboration between Epic Games and PlayVS means that we will see officially sanctioned collegiate level competitive Fortnite
PlayVS is a Silicon Valley based startup that touts themselves as "the official highschool Esports league." They have historically collaborated with League of Legends, Smite, and Rocket League - which is now a subsidiary of the Epic Games family. Today's announcement further strengthens Epic Games' tie with PlayVS as the previous collaboration now extends to the infamous Fortnite title
Calling all Duos.

Fortnite, now on PlayVS, is FREE for all students.

Season kicks off 2/17.https://t.co/7gM4NEYhoi pic.twitter.com/RfNz3ukgfP

— PlayVS (@playvs) January 22, 2020
PlayVS' 8 week league kicks off on February 17th, with duos being the Format of choice. Players from all around the country can now sign up using the aforementioned link. Historically, competing in PlayVS sanctioned events came with a near $70 bill, but luckily Epic Games is stepping in to cover the tab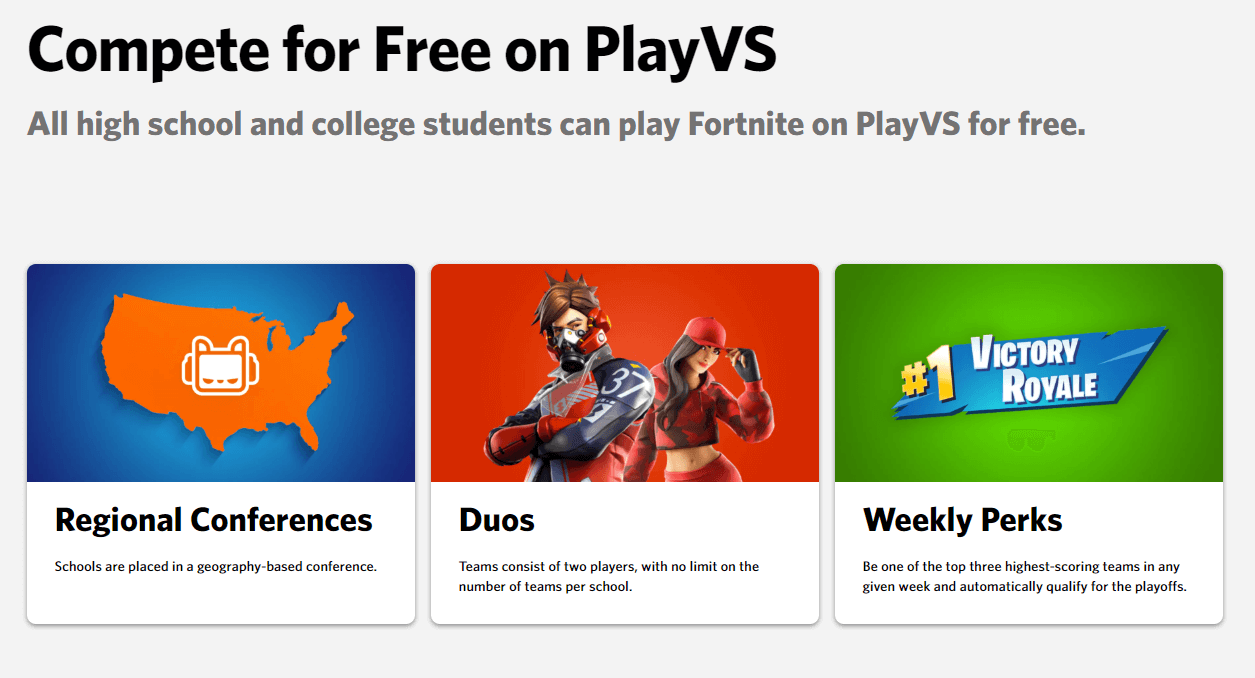 Competitors in the PlayVS league will be confined to their geographic region. Similar to traditional collegiate sports, divisions will be created based on your location. Every week, players will have an opportunity to automatically qualify for the finals or build up consistent points. This system is highly reminiscent of Fortnite's Championship Series… perhaps a sign that FNCS is the future of competitive Fortnite at all levels?
In all honesty, this partnership is a win-win. Taking a glance at Fortnite's core demographic, their competitive scene is completely reliant on the young blood. A majority of the players who qualified for the World Cup finals were below the age of 18. This is no coincidence; a partnership that expands Fortnite's reach among the younger demographic
This announcement could not have come at a better time - as orgs have been fleeing the competitive scene at alarming rates. We previously reported this trend beginning to form, but shoutcaster and analyst BallaTW also sums it up pretty nicely
Orgs pulling out of Fortnite is a direct result of no/less official broadcasts.

Ecosystem is important.

When one of the most OG and successful teams (@GhostGaming) is dropping their players you have to wonder..

Is there anybody out there or are we just going to ignore this ??

— Ballatw (@Ballatw) January 20, 2020
Ecosystem is important
Those few words speak numbers as to how a young Esports scene can either grow and thrive or diminish in such record time. Epic Games' move shows that they are continually willing to invest in the infrastructure needed to make Fortnite sustainable
The only question now is - how successful will this venture be?
Follow us on Twitter to keep up to date on everything Fortnite!