The Draft Showdown produced some hilarious moments on stream and each Fortnite player has now selected an NFL star to partner up with.
On January 30th, 16 top Fortnite streamers will head down to Miami for the Twitch Rivals Streamer Bowl event. Each player will team up with an NFL superstar to compete in a Duos competition which is shaping up to be pretty stacked. You will be able to catch the action live on the Twitch Rivals Twitch channel.
Who's squadding up?

Find out which NFL stars & Twitch streamers are joining forces for the Twitch Rivals #StreamerBowl ft. Fortnite in Miami!

Watch the Draft Showdown today at 4PM PST at https://t.co/vkc2KZmmTh pic.twitter.com/hz4YIUqGT0

— Twitch Esports (@TwitchEsports) January 16, 2020
In order to decide who would play with who, the Fortnite creators (excluding TimTheTatman who couldn't make it) just took part in the "Draft Showdown". This event saw them battle through 6 intense rounds of ZeroYaHero's Respawn Zone Wars map. Each round points were awarded based on the number of eliminations scored. It quickly became evident that this format favored controller players, and this showed on the final leaderboard.
Once the final placings were confirmed, each Fortnite player took it in turns to select which NFL star they wanted to duo with. Starting with 1st place Dominick "Unknown" Green and working their way down the list, everyone called in to make their pick. Check out all the teams below: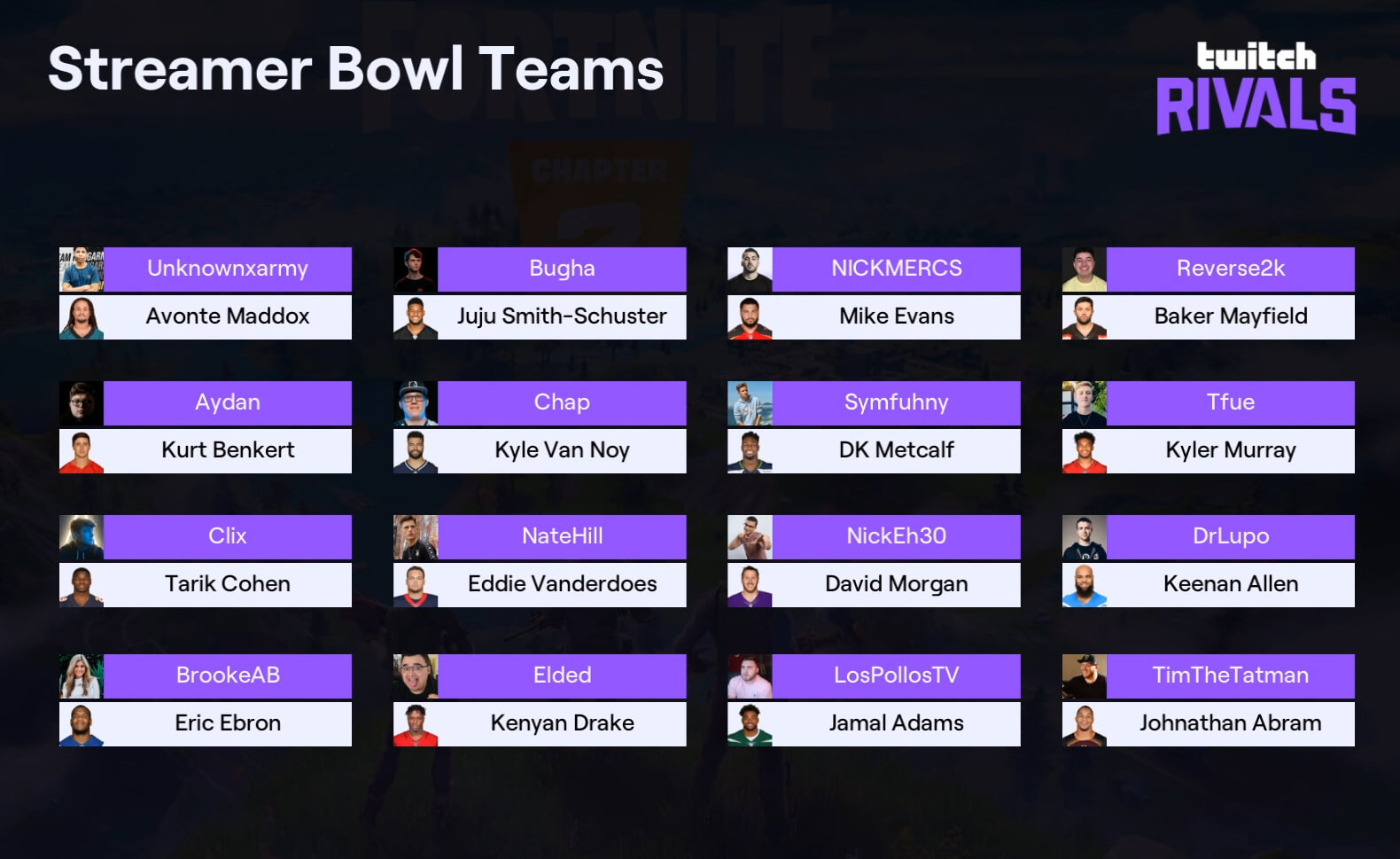 The draft certainly made for some entertaining content. When it came to Turner "Tfue" Tenney's selection, he made it very clear which qualities he was looking for in a partner. Tfue asked "who's on controller, I'm just trying to pick whoever's on controller". He eventually settled on Kyler Murray of the Arizona Cardinals, who I'm sure will be filled with confidence after hearing his new Duo say "Alright fine, I'll pick him, he seems aight".
The Twitch Rivals Streamer Bowl is looking set to be an awesome event, and the perfect way for Fortnite fans to get ready for the Super Bowl.