Harrison "Psalm" Chang was just released from Counter Logic Gaming (CLG). It's a bigger deal than you might think
At this point, everyone must know Psalm. 2nd place in the Fortnite World Cup ring a bell? Meta master? Shing Shing? Either way - Psalm is one of the most dangerous players to come out of the NA-West region. As of only a few days ago, however, Psalm announced his departure from CLG
CLG would like to thank @psalm for an incredible year. We wish you nothing but the best moving forward.

Can we get a Shing Shing one more time in the comments down below. pic.twitter.com/5STfR9B79H

— CLG (@clgaming) January 14, 2020
Counter Logic Gaming was Psalm's first and only home to professional Fortnite. After his stellar late 2018 Winter Royale performance, with the help of a certainly overpowered infinity blade no less, CLG took interest and pounced on the opportunity to add a boomer to their roster
Infinity Blade Master acquired. ??

We're stoked to have @psalmHotS compete under CLG. WELCOME TO THE SQUAD! #WeAreCLG pic.twitter.com/6niCptNnCO

— CLG (@clgaming) January 18, 2019
Almost exactly one year later, the contract with Psalm has expired and, for whatever reason, both parties didn't come to an agreement to extend. This begs the question: why didn't CLG work harder to retain one of the most successful players in all of Fortnite?
To answer this question, I decided to dig further. I looked at other organizations to see what they have been up to from a player development standpoint. Flyquest is an organization that caught my attention, since they too have been shedding their Battle Royale roster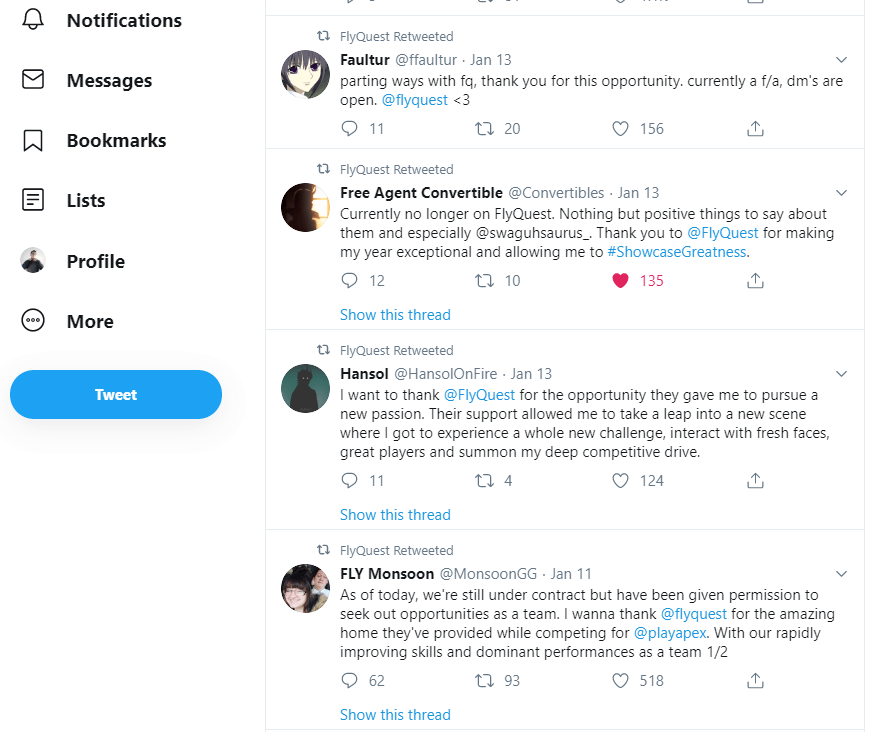 Multiple Fortnite players along with the entire Apex Legends roster have been released or are restricted free agents. Although it is not particularly out of the ordinary to regularly purge and sign more relevant players, organizations have been more focused on releasing players than signing new talent
Team SoloMid was first blood when it comes to releasing players in 2020; Herrions and Clouds departed from the organization
Today, we are sad to announce the departures of @TSMClouds and @TSMHerrions.

We wish them nothing but the best. Thank you for everything. ?? pic.twitter.com/Py3TCwUAJ3

— TSM (@TSM) January 4, 2020
The series of releases is more impactful than you might think. From a business perspective, organizations usually balance their budgets at the beginning of the fiscal year. The beginning of quarter 1 (Q1), months January - March, is when companies tend to allocate how much money they plan on spending between all departments. For teams, this means that they will use all relevant information to see whether they want to continue investing in certain Esports or begin to pull out
For multiple orgs, it seems as though the answer is they are divesting in the Battle Royale genre. This means that laggers are even more likely to get dropped - and top players might not have the same demand they once had
Regardless, it's way too early to call this purge a trend. By the end of Q1, within three months time, we should have a more clear picture as to how the BR landscape will develop
Enjoying the content? Want to see more? Follow us on Twitter to keep updated!