With over 11 Million Players worldwide, Fortnite has become a sensation. People of all walks of life have begun playing the game. This ranges from Gamers (Ninja) to Artists (Drake) and even some NFL players (JuJu Smith-Schuster). Currently we are living in a time where things could not get any bigger. Well, fellow builders, things have changed for the better.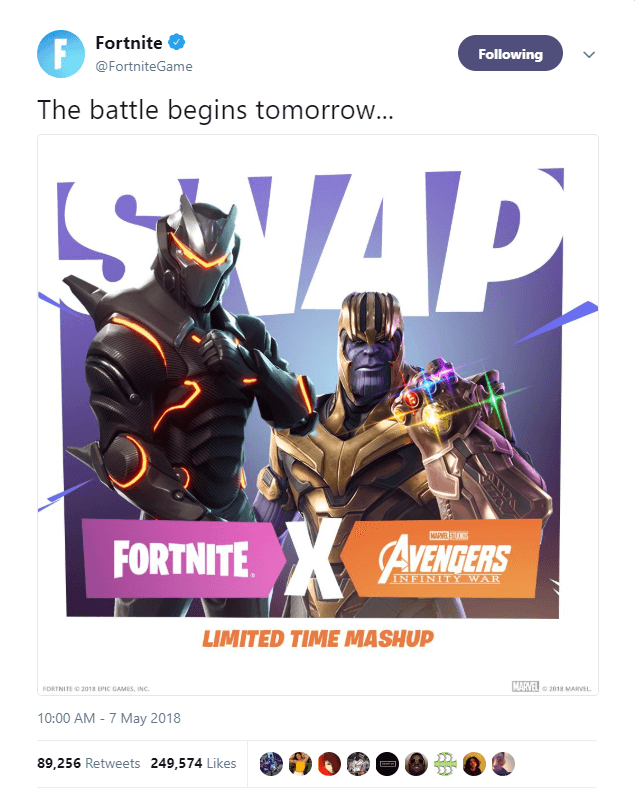 That's right everyone, Fortnite has become a bigger sensation now offering the fabled Infinity Gauntlet, complete with all the Infinity Stones, transforming the player to the powerful Thanos, the antagonist, of Marvel Studios' Avengers Infinity War.
Oddly enough, this is not a mashup that was out of the ordinary. "Over the past few months, while we were editing Infinity War, we'd take breaks to hop on and get in a few games," Joe Russo, Co-Director of Infinity War, exclusively told Entertainment Weekly. "And then we started thinking, how cool would it be to have some kind of Avengers–Fortnite mashup? So we stalked Donald." Donald Mustard Creative Director of Epic Games.
Donald was quick to compliment the Russo's on their film and their collaboration. "This kind of opportunity, where you have this mutual respect for someone's work and you're on the same page about doing something cool for fans, is rare and really exciting. We hope players love it."
Players are talking about this all over Twitter ranging from hype to anticipation. "If Fortnite and the Avengers coming together ends up being wildly popular, expect even more of these kind of collaborations in the future. Fortnite has penetrated into main stream media more than any other game, and this is proof. I, for one, am excited to see what's next." Streamer DrLupo commented.
Starting tomorrow everyone will get a chance to create havoc as Thanos. The question is, will you be the one to wield it or will you fade into nothingness?