Khanada was banned on Twitch.tv after playing with a banned user
… And the implications are much higher than meets the naked eye. Earlier today, Khanada was playing some 2v2 wagers with ZaynSZN, a recently banned Twitch streamer. Due to Twitch's terms of service disallowing any Twitch streamers from interacting with actively banned users on stream, Khanada would be handed a ban of his own
Banned for 3 days when I had Zayn muted ggs

— Reformed Khanada (@Khanada_TV) November 8, 2019
With less than 24 hours until the start of FNCS Week 2, teammates Tfue and Cloakzy are stuck in a predicament. Since Khanada is banned, it is now against the terms of service for Tfue and Cloakzy to stream the squad event if they choose not to make any roster changes
So my teammate got banned on twitch ??

— Tfue (@TTfue) November 8, 2019
Short notice of this magnitudes means that finding a replacement is outside the realm of possibility. The team put up some consistent numbers over the past few weeks; splitting up for a week could have a cataclysmic impact on their chemistry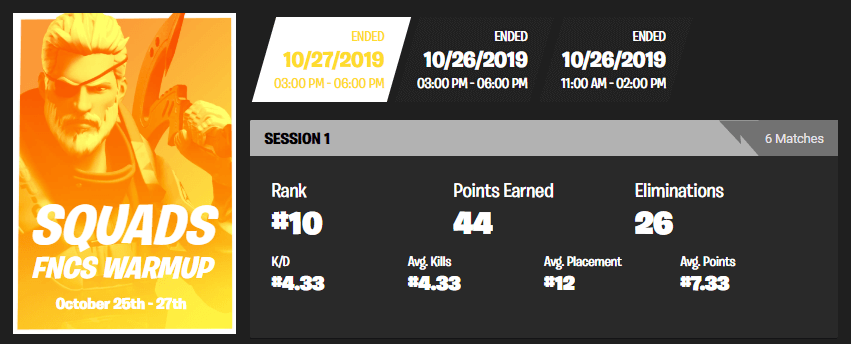 Images courtesy of… us. Check out live event leaderboards here!
Fortnite Championship Series' warm up week saw Tfue and company scratch the top 10 placement threshold, improving to 5th place as Week 1 came around. FNCS is structured such that it sends the top 10 placing teams each week into stage 2, which the squad have already accomplished. At this point, it's all about seeding higher and getting into easier lobbies for the heats… So the stakes aren't that high after all
Benjyfishy chimed in, replying to Tfue's tweet with a potential 200IQ workaround
make khanada change his epic name and put on voice changer for fcs and say you are playing with a fill

— benjyfishy (@benjyfishy) November 8, 2019
All jokes aside, Tfue could simply not care and stream the event anyways. His reach on Twitch provides great value to the platform, and they simply aren't prepared to take another blow. After Ninja, Shroud, and most recently CourageJD left to find greener pastures, I don't think Twitch is in a position to piss off their new golden boy
Will Tfue and Cloakzy stream the event, despite conflicts with Twitch TOS? Let us know on Twitter!
UPDATE:
Cloakzy just revealed that Twitch won't allow them to stream regardless if Khanada is muted or not
Just found out we can't stream even with khanada muted. SAD

— cloakzy (@cloakzy) November 9, 2019