Some of the leading members of the Fortnite Creative team came together to answer popular community questions on Creative Mode.
Today's "Ask Me Anything" was hosted on the r/FortniteCreative subreddit by u/TheStevieT. The panel included Fortnite Creative Development Director "Zookeeperzak", Tech Artist "frukostkungen", "BrownFort" from Developer Relations and Gameplay Designer "Timorous_Beastie".
Creative Mode AMA - 11.7.2019 from r/FortniteCreative
The AMA was announced yesterday, and since then questions have been pouring in from Creative Mode fans. Here are some of the top questions and answers:
When will we get fishing rods / motorboats in creative?
A: They are on the list to be added as soon as we can get water working in the way we feel works for creative. We're not sure on the exact timing yet.
Will there ever be a feature where you can choose a skin in your locker and apply it to a team? Or maybe even just like effects such as glows or something to distinguish players in an infection gamemode or something.
A: We are adding new team glows in an upcoming release to help with team based games.
Any chance we can get customizable barriers for weather effects (rain, fog, snow, etc) as well as barriers for filters and time of the day?
A: We have a design for a new time of day device as well as including some weather effects. We haven't started work on it yet.
Playing featured islands directly from the game mode selection menu could make a huge difference. What do you think about it?
A: This is a cool idea. We've talked about multiple solutions we'll see what the future holds.
Can we please get custom rift zones? Those would be so cool!!
A: Yes, there is work being done towards providing more options to allow custom rift zones in Creative.
Are there any plans to add a weapon customizer device to alter the weapon damage of items in my game?
A: We have some designs for a weapon customizer. We haven't quite nailed it yet, and we're still working through some design challenges, so don't expect this feature anytime soon.
Chests are subject to the loot pool of BR. Can we get a device that gives us the ability to choose the loot pool from chests?
A: Having a way to set loot from chests would be awesome. We'll see what we can do.
Here is a selection of some interesting points from the live discussion: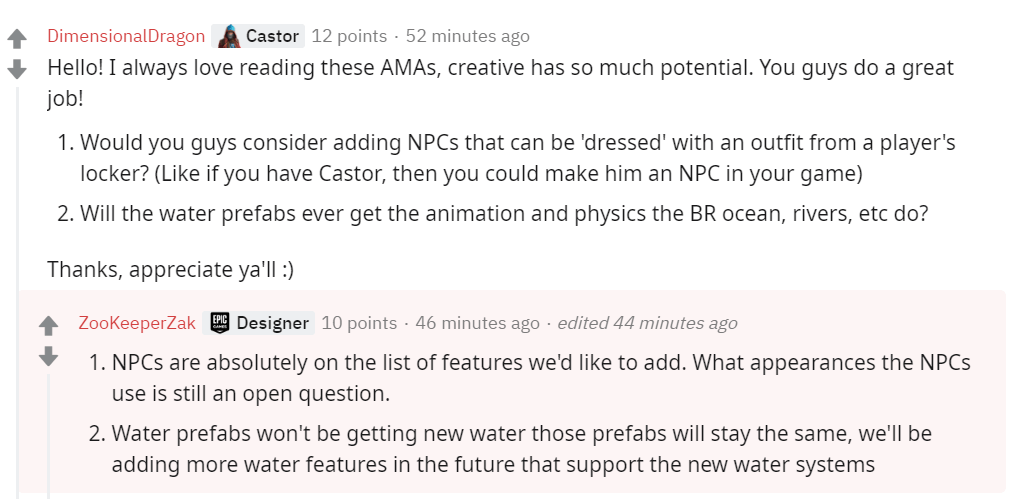 It was great to see Epic Games give the community the chance to have their Creative Mode queries answered today. We learnt that some awesome stuff is on the horizon and the future possibilities of this unique mode are definitely exciting. Hopefully sometime soon they will run another AMA for Battle Royale mode as I'm sure many of you have some burning questions to ask. You can check out the full AMA here.