A new leak shows an Xbox One S bundle that includes an exclusive Fortnite skin set along with some V-Bucks.
Epic Games and Microsoft have joined forces for the second time to offer an exclusive bundle to Fortnite players. The duo has already released one Xbox One S bundle called Eon, which offers the Eon skin, Resonator pickaxe, Aurora glider, and 2,000 V-Bucks.
It looks like they'll be back at it again according to a new leak. This bundle should hit shelves soon and comes in a dark purple color as opposed to the previous white model. You'll also be receiving the Dark Vertex skin, an accompanying glider and pickaxe, and 2,000 V-Bucks.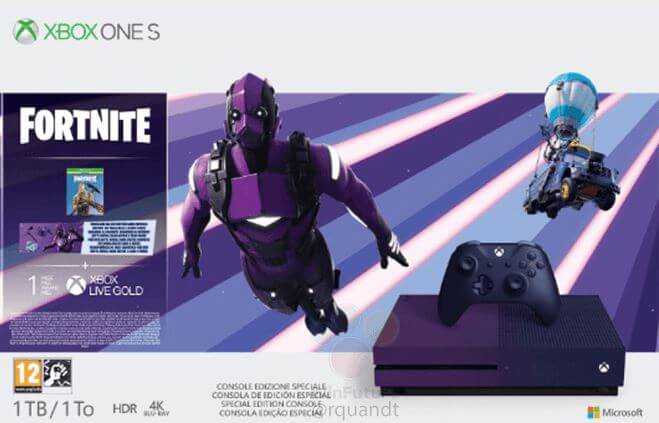 Like all new Xbox consoles, the bundle will also come with a free month's subscription to Xbox Live.
As you can tell by the image, the new skin is a purple reskin of the classic Vertex skin. The accompanying pickaxe and glider will likely be reskins of the Forerunner glider and Razor Edge pickaxe as well.
Are you on the market for a new Xbox? If you like this skin bundle, it might be worth waiting until the official release.
Follow us on Twitter @FortniteTracker for more Fortnite news.