This latest Fortnite update includes the release of the highly anticipated Falcon Scout item plus a bunch of new Reality Augments.
It's been a long time coming but we finally have a new Fortnite update. Players have been getting antsy for some fresh content and Epic has delivered!
Here's what you need to know:
Fortnite Falcon Scout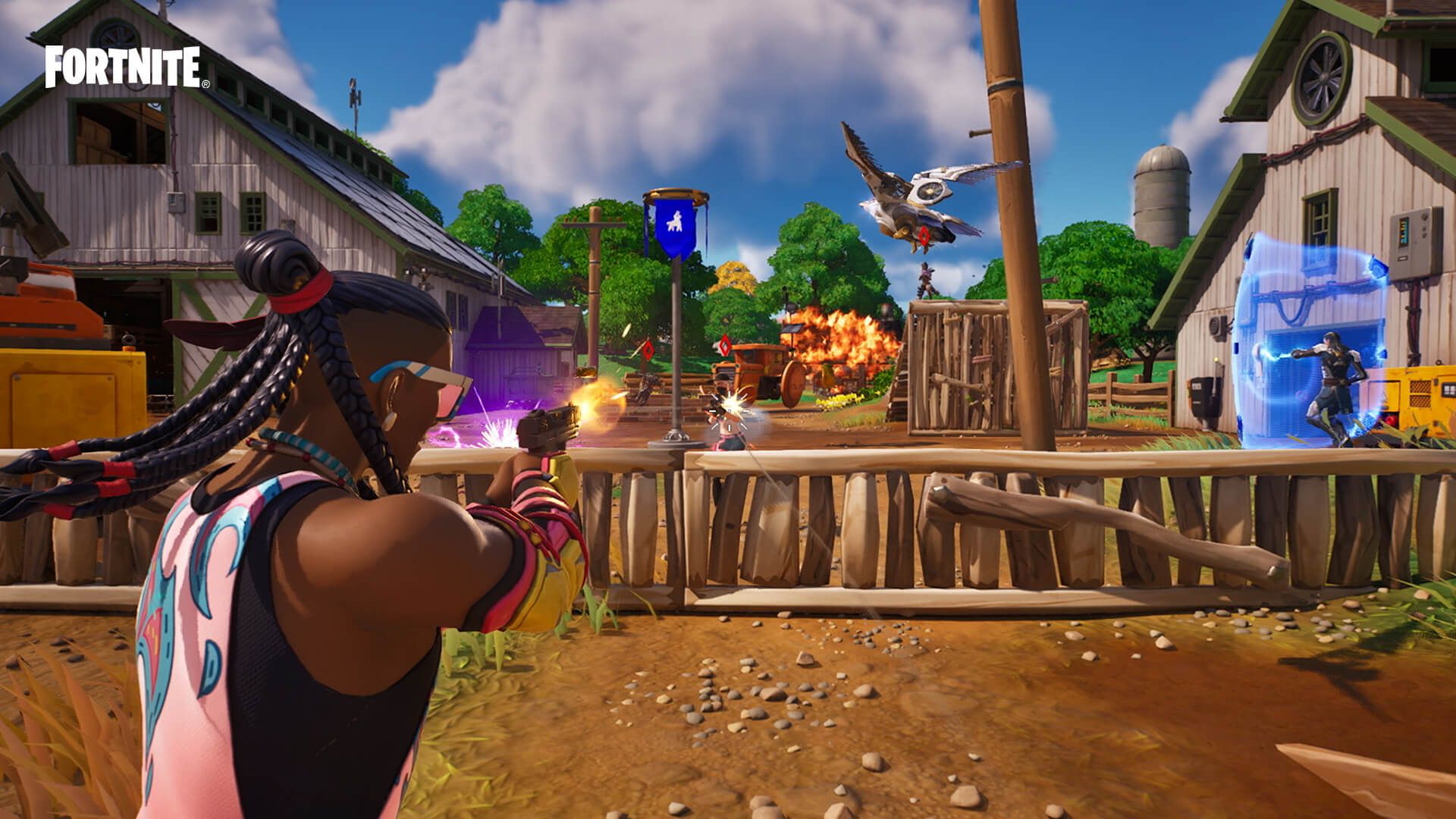 As seen in the Chapter 4 trailer, the Falcon Scout item is a remote-controlled drone (in the shape of a bird).
Find a safe space to hide, then use the Falcon Scout for a quick recon mission. You can ping locations and even caw to scan and tag all nearby enemies.
Desperate for a mini? The Falcon Scout can also open containers, pick up loot, and carry it back to you!
These drones can only fly a certain distance before you lose signal, and they can be shot down by opponents. Find them as floor loot, in Chest, Oathbound Chests, and Supply Drops.
Extra Reality Augments
Making the most of your Reality Augments is key to victory in Chapter 4! Now there are five new perks to get the hang of.
Danger Hero

Briefly regenerate Health and gain movement speed when your Shield breaks.
Peely's Plunder

Receive a treasure map that will lead you to buried treasure.
Rarity Check

Get Siphon upon eliminations with Common and Uncommon weapons.
Shotgun Striker

Your Shotgun fire will give you Siphon upon hitting opponents.
Zero Chance

Temporarily gain the Zero Point dash ability each time you break an enemy's Shield.
Hop in-game now to unlock all the new Reality Augments and see which ones you like.
Jump in the ride!
Following the v23.20 update, hired AI characters can be passengers in vehicles. This means they no longer get left behind when you need to get in a car for  speedy rotate.
Competitive updates
All of the new Reality Augments except Rarity Check will be included in competitive playlists. It looks as though the Falcon Scout will be available in these game modes too.
Bug Fixes
Fixed the issue that caused us to disable the Deku Smash in Battle Royale/Zero Build. The Deku Smash has been re-enabled in Battle Royale/Zero Build.
Fixed issues related to mantling in which players would sometimes be flung across the map.
Fixed an issue in which, in some instances, sprinting would be disabled for the duration of a match.
Reality Augments can again be unlocked from teammates.
Players can again damage objects with their Pickaxe consistently.
Players are now able to select Reality Augments while on a Dirt Bike.
Players can now use the Guardian Shield while on the back of an OG Bear pick-up truck or a Dirt Bike.
Up next: $10M FNCS prize pool for 2023 + Fortnite Global Championship in Denmark