The community was shocked to learn that Reisshub is leaving Fortnite after being removed from the official broadcast.
Despite the recent announcement of a $10M FNCS prize pool for 2023 and Global Championship LAN in Denmark, it's been a rough couple of months for competitive Fortnite. We've seen Become Legends exit the scene, top pros retire, and motivation seems to be at an all-time low.
Now, fan-favorite analyst and content creator Reisshub has confirmed that he will be quitting Fortnite. He broke the news in a TwitLonger post on Sunday.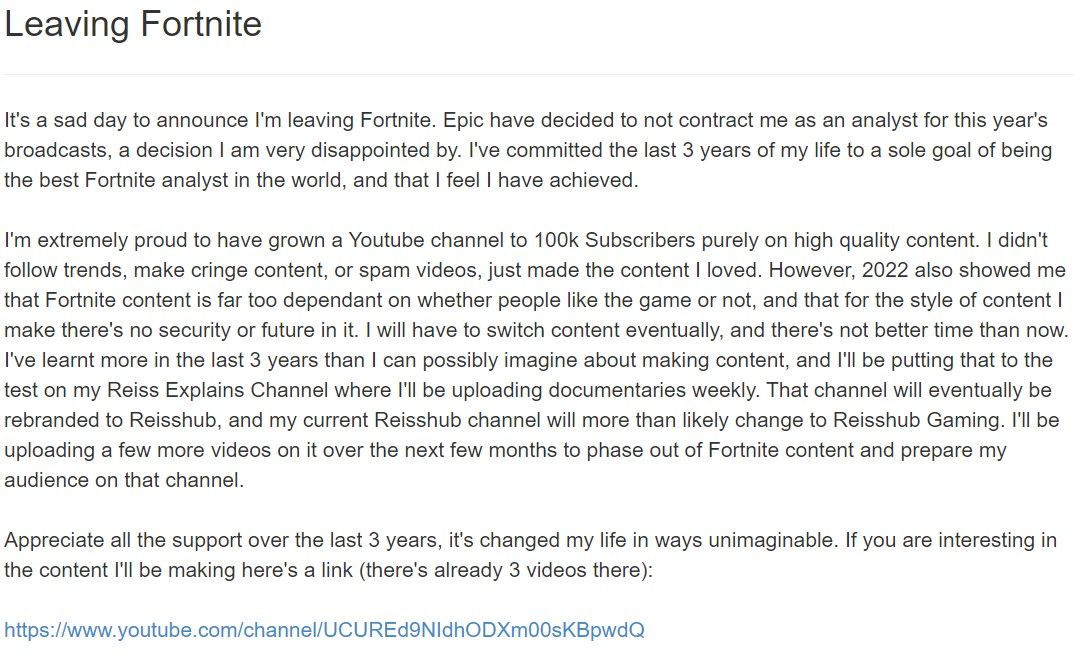 Reisshub revealed that Epic has decided not to contract him as an analyst for this year's tournament broadcasts. He added, "I've committed the last 3 years of my life to a sole goal of being the best Fortnite analyst in the world, and that I feel I have achieved".
I think 99% of the community, including all the other broadcast talent, would agree that Reisshub was the best analyst in the game. The level of research and preparation he put in was unmatched, and he always presented his ideas very well on camera.
Many people were surprised by Reiss' departure, slating Epic's decision to drop him. "You're too smart for this scene and they don't deserve you anyways. Just a joke the direction the broadcast has taken" wrote Noble Scrims owner Boop, who previously chose to step down from his own position on the broadcast.
Former Fortnite pro turned content creator Arab commented "pretty obvious Epic doesn't want people with their own brand. It's like you hit 100k and they became afraid of you. good choice to leave".
pretty obvious epic doesn't want people with their own brand.

It's like you hit 100k and they became afraid of you. good choice to leave.

— Arab (@YourFellowArab) January 15, 2023
We saw similar reactions when AussieAntics and Ballatw were axed from the official broadcast. But they've both gone on to take their careers to new heights, and I'm confident Reiss will do the same.
Viewers are eager to know if Leven2k will be returning to the FNCS broadcast this year, after being absent from the FNCS Invitational in November.
Reisshub is also known for making some of the most unique, informative, and well-produced Fortnite videos on YouTube. However, with this news, his channels will be going in a new direction, with weekly documentaries on Reiss Explains and non-Fortnite content on his gaming channel.