Fortnite Chapter 4 is here. From new items and locations, to the Shockwave Hammer and hurdling mechanic, there's plenty to enjoy.
Following the Fracture Chapter 3 Finale event, a new Battle Royale Island has surfaced. There are a lot of gameplay changes to be aware of, so let's just dive straight in!

Fortnite Chapter 4 weapons
Here's what you'll be using to take down your opponents this season:
EX-CALIBER RIFLE: Powerful, semi-automatic rifle that fires a ballistic blade at your enemies
THUNDER SHOTGUN: Pump-action shotgun that deals high damage and shoots two rounds at a time
MAVEN AUTO SHOTGUN: Automatic, fast-firing shotgun with moderate damage and range
RED-EYE ASSAULT RIFLE: Automatic assault rifle with a custom red dot sight for improved accuracy
TWIN MAG SMG: Automatic, fast-firing SMG with a double-sided magazine for an extra fast reload
TACTICAL PISTOL: Automatic, powerful sidearm with some serious firepower
Other items & consumables
SHOCKWAVE HAMMER: Deals damage and knockback to opponents. Can also be used to launch you and your teammates
SLAP BERRIES: Eat one for not only Effective Health, but also short-term unlimited Energy regen to stay sprinting longer
SLAP JUICE: Grants more Effective Health than a Slap Berry, and also a longer temporary Energy regen
SKY JELLIES: Restore effective health and give a bounce effect
Ride a Dirt Bike
Having been leaked for well over a year now, motorcycles are finally in Fortnite. Hop on the new Trail Thrasher to get around at speed, perform stunts, and even shoot your weapon while driving.
Up next: Full Fortnite Chapter 4 Season 1 Battle Pass: All outfits + Secret Witcher skin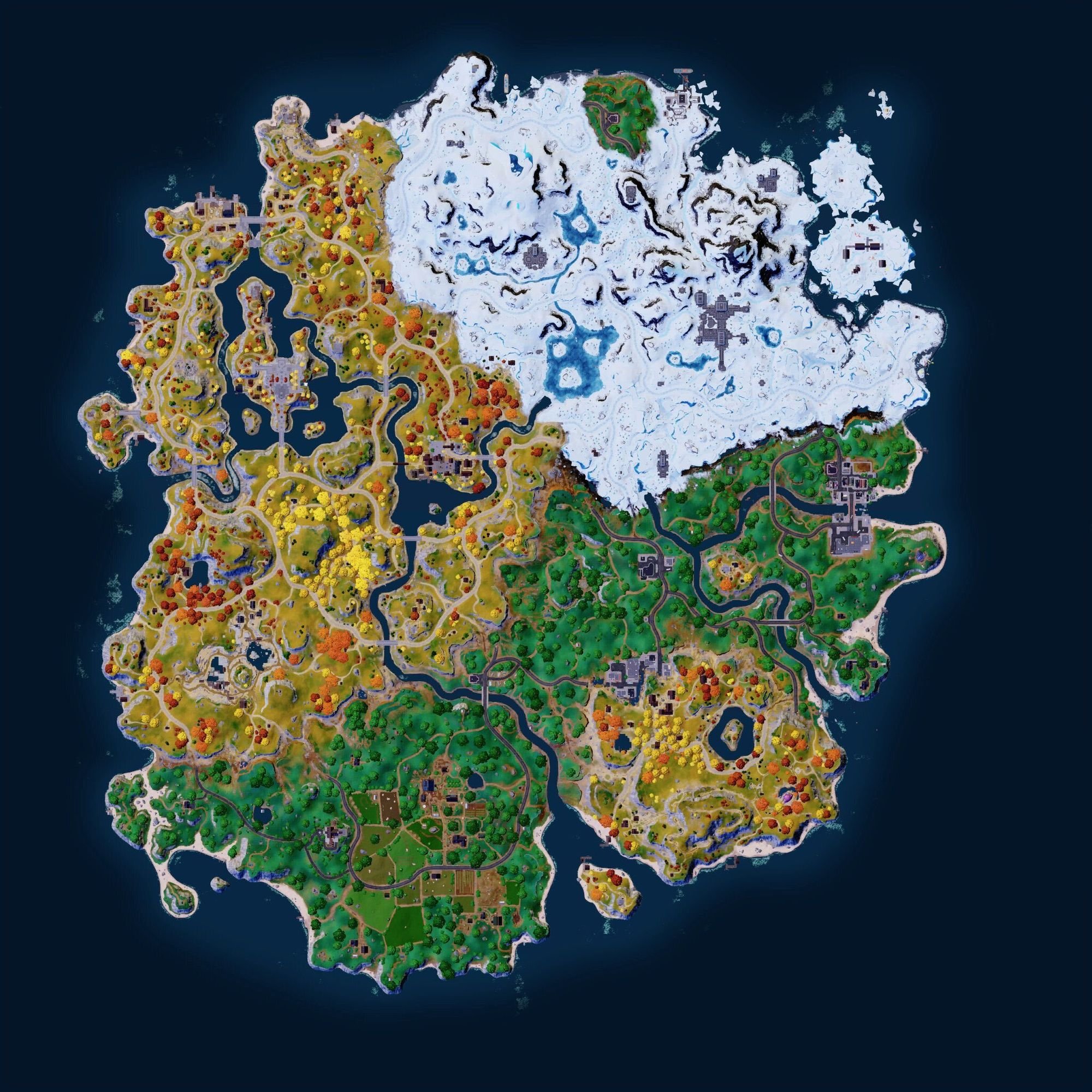 Fortnite Chapter 4 map
Take a look at the full Fortnite Chapter 4 Season 1 map below. There's a whole host of new locations to explore including The Citadel, Anvil Square, Brutal Bastion, and Frenzy Fields.
Hurdling mechanic
To add to Fortnite's growing catalogue of advanced movement mechanics, you can now hurdle over items. Simply sprint at an obstacle and your character will automatically climb over it for a more fluid experience.

More Fortnite Chapter 4 changes
Hot Spots are back in Chapter 4! Look out for POIs with gold names on your map – they will be inhabited by flying drones full of loot.
Another way to get stacked on loot is to claim a POI. Stay in your location's Capture Point for a set time to take control of the POI. Your team's banners will be displayed, you'll earn some loot, plus enemies and Chests will be marked up.
There's also a brand-new perk system known as Reality Augments. Be sure to read our complete guide to Reality Augments, but simply put, these perks will give you specific upgrades, like faster reloading or glider redeploy.