Play the FNCS Invitational Community Cup for a chance to earn $25 worth of new cosmetics.
Fortnite's $1,000,000 FNCS Invitational LAN arrives in Raleigh, North Carolina next weekend. Top pros from around the world will compete in-person for the first time since the 2019 World Cup (excluding third-party events).
To celebrate, jump into the FNCS Invitational Community Cup on November 8. This is a Duos tournament with building enabled, and some really cool prizes!
FNCS Invitational Community Cup Format
Teams will have 3 hours to complete up to 10 matches. Points will be awarded for both placement and eliminations as follows:
Scoring System
Victory Royale: 25 Points
2nd: 22 Points
3rd: 20 Points
4th: 18 Points
5th: 17 Points
6th: 16 Points
7th: 15 Points
8th: 14 Points
9th: 13 Points
10th: 12 Points
11th: 11 Points
12th: 10 Points
13th: 9 Points
14th: 8 Points
15th: 7 Points
16th: 6 Points
17th: 5 Points
18th - 19th: 4 Points
20th - 21st: 3 Points
22nd - 23rd: 2 Points
24th - 25th: 1 Point

Each Elimination: 1 Point
Track your performance live via our FNCS Invitational Community Cup leaderboards.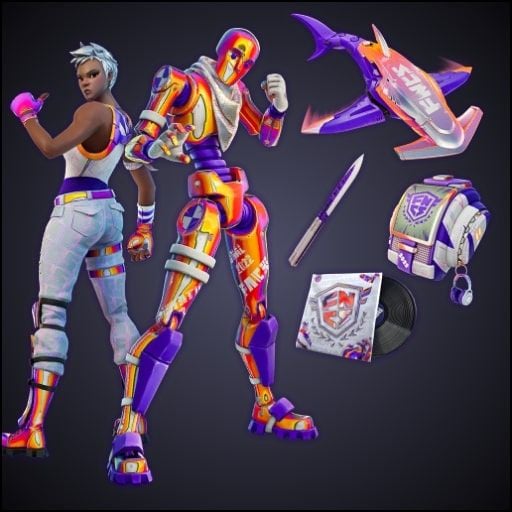 How to get Dummy Supreme & Recon Champion skins
Top performing Duos in each region will get their hands on the FNCS Invitational Community Cup In-Game Cosmetic Bundle. This includes the new Dummy Supreme and Recon Champion Outfits, Champion Sail Shark Glider, Champion's Total Back Bling, and Champion Balisong Pickaxe.
This is where you need to place to secure the bundle:
Prizing
Europe: Top 1,350
NA East: Top 690
NA West: Top 240
Brazil: Top 240
Asia: Top 240
Oceania: Top 120
Middle East: Top 120
Entry Requirements
There's no minimum Arena rank needed for this cup, but you do need to have Two-Factor Authentication enabled. Also, your Epic account must be level 15 or higher, which you can check via the Career tab inside Fortnite.
For more details, read the Fortnite FNCS Invitational Community Cup Official Rules.