Complete the Fortnite Paradise Discord Quest to unlock the Chrome Flow Wrap and other cosmetics.
Fortnite Discord Quests have returned, giving players the chance to earn a selection of free in-game rewards.
With Chapter 3 Season 4 in full swing, it's time to spice up your locker. The Paradise Discord Quest is live from now until October 2, so act fast.
How to Start the Fortnite Paradise Discord Quest
It's easy enough to get started on the Fortnite Paradise Discord Quest, just follow the steps below:
Join an official Fortnite Discord server
Head over to the "Paradise Discord Quest" channel
Click the "Start" button under the announcement image
Follow the instructions to link your Epic Games account
You'll then be given your first task. Once it's completed, the next one will pop up automatically. You can also hit the refresh button if it is being slow to update.
Read more: How to get the FREE Red Hot Revenge Pickaxe & more in Fortnite Reboot Rally
Chrome Flow Wrap + More Rewards
These are all the Fortnite Paradise Discord Quest rewards and how to unlock them.
Complete one task: Chrome-ified Reality Tree Banner Icon
Complete three tasks: Banana Flip Loading Screen
Complete six tasks: Chrome Flow Wrap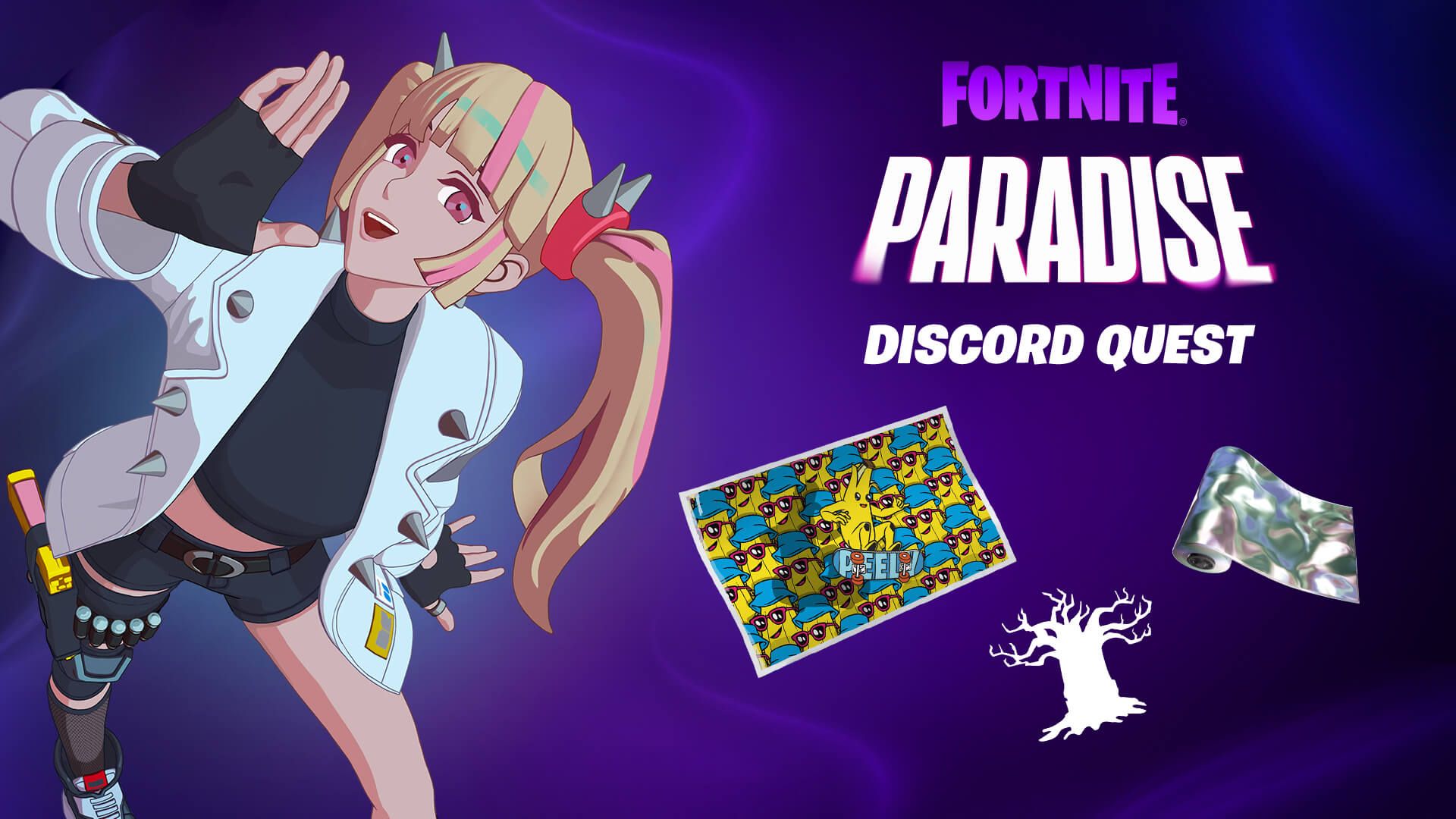 All Paradise Discord Quest Tasks
Here's the full list of all six Fortnite Paradise Discord Quest tasks. Be warned, they get increasingly difficult!
Assist teammates with 10 eliminations
Survive 5th Storm Circle 3 times
Deal 3000 damage to opponents
Heal your health 300 points
Place top 10 in Solos 3 times
These tasks can be completed in either Battle Royale or Zero Build mode.
Eligible Fortnite Discord Servers
You can take part in the Paradise Discord Quest in any of the following servers. Alternatively, add the bot to your own server using this link.
Arabic language: https://discord.gg/fortniteme

German language: https://discord.gg/fortnitede

English language: https://discord.gg/fortnite

Spanish language: https://discord.gg/fortniteesp

French language: https://discord.gg/fortnitefrofficiel

Italian language: https://discord.gg/fortniteita

Japanese language: https://discord.gg/fortnitejp

Korean language: https://discord.gg/fortnitekr

Polish language: https://discord.gg/fortnitepl

Portuguese (Brazil) language: https://discord.gg/fortnitebr-pt

Russian language: https://discord.gg/fnru

Turkish language: https://discord.gg/fortnitetr