Fortnite's brightest stars are touching down in Riyadh, Saudi Arabia, for the biggest in-person event since the 2019 World Cup. With $2,000,000 on the line, this is going to be crazy!
The tournament is part of the larger Gamers8 Esports and Music Festival – A futuristic experience which seeks to "bring the virtual world of gaming out into the physical realm".
Here's what to expect:
Top Fortnite pros, content creators, and a few community qualifiers will compete across both Zero Build and standard Battle Royale. Each mode consists of 12 set lobby matches, similar to FNCS, and boasts its own $1million prize pool.
Schedule
Everything is spread out nicely so it should be easy to follow. Zero Build first, then Battle Royale.
Zero Build games 1-6: July 28 18:00 CEST
Zero Build games 7-12: July 29 18:00 CEST
Battle Royale games 1-6: July 30 18:00 CEST
Battle Royale games 7-12: July 31 18:00 CEST
How to watch
It appears that the event will have an official broadcast on the Gamers8 Twitch channel. Popular Fortnite casters including ShyoWager have also made the trip to Saudi Arabia.
Additionally, you may be able to catch your favourite player streaming their own perspective. For some behind the scenes footage, Arab is already there and is regularly live on Twitch.
Prize Pool Breakdown
There's $1,000,000 up for grabs in both Zero Build and Battle Royale, distributed as shown below. These numbers are split between duo partners: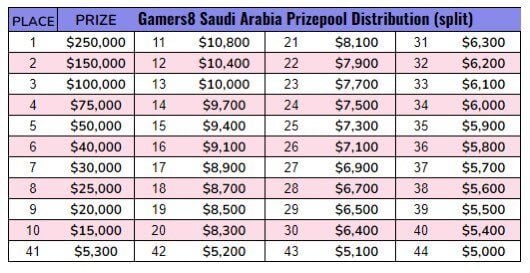 Participating Duos
Fans of competitive Fortnite will be very familiar with a lot of the names on this list. One of the most exciting parts about this being an international Duos LAN, is that players from different regions are teaming up for the first time ever:
Arkhram & Falconer
Edgey & Acorn
Bizzle & Dubs
Clix & Duke
Scoped & Blake
Tayson & Th0masHD
Hen & Queasy
Aqua & Veno
Naetor & Qjac
MaufinFN & Dokn
Frosty & Redlee
Pulga & Leleo
Amar & Vadeal
Mitr0 & Milan
K1ng & Seeyun
Epikwhale & Malibuca
Chapix & zAndy
Ronaldo & Kreo
Setty & Kami
JannisZ & Khanada
Arab & Ajerss
Jelty & Vic0
Letshe & Swillium
Skram & Andilex
Hellfire & Trippern
Spy & Hero
FHD & Yonx
Okis & Nutiffy
Pilky & Sjcash
Fatch & Wcarey
Mackwood & Threats
Knight & Rogueshark
Kovaaksxd & Refsgaard
Liwshe & Stenno
Badsniper & Merstach
Naiad & Unhydra
Anas & Pinq
Kakarot & Adapter
Rapit & P5ek
Draftell & Kai4u
Kal & Nm7
FKS & Balor
2x Local Qualifiers