Fierce builder or master tactician, with two separate tournaments to try, Fortnite's Blanka & Sakura Cup has something for everyone.
One week out from a potential Fortnite event to celebrate Star Wars day, Epic Games has dropped yet another exciting cross over. This time they're running it back with Street Fighter!
Popular Street Fighter characters including Ryu and Chun-Li already exist within the Fortnite universe, and now to commemorate the game's 35th anniversary another pair will be joining the Island. World Warriors Blanka and Sakura arrive in the Item Shop at 8PM ET on Thursday, April 28.
Both Outfits come with a bonus alt style, plus a built-in Emote and Back Bling. Complete the look with matching Pickaxes and Gliders which will be available individually.
Blanka & Sakura Cup
To welcome this new duo to Fortnite, Epic is hosting two special Duos tournaments. Anyone who finishes in the top 25% of teams in either event will unlock the "Bonus Stage" Loading Screen.
Up first on April 27 is a mobile-only Zero Build Cup (Android), followed by a standard Battle Royale Duos Cup open to all platforms on the 28th. Though they feature different game modes, they follow the same format and scoring system.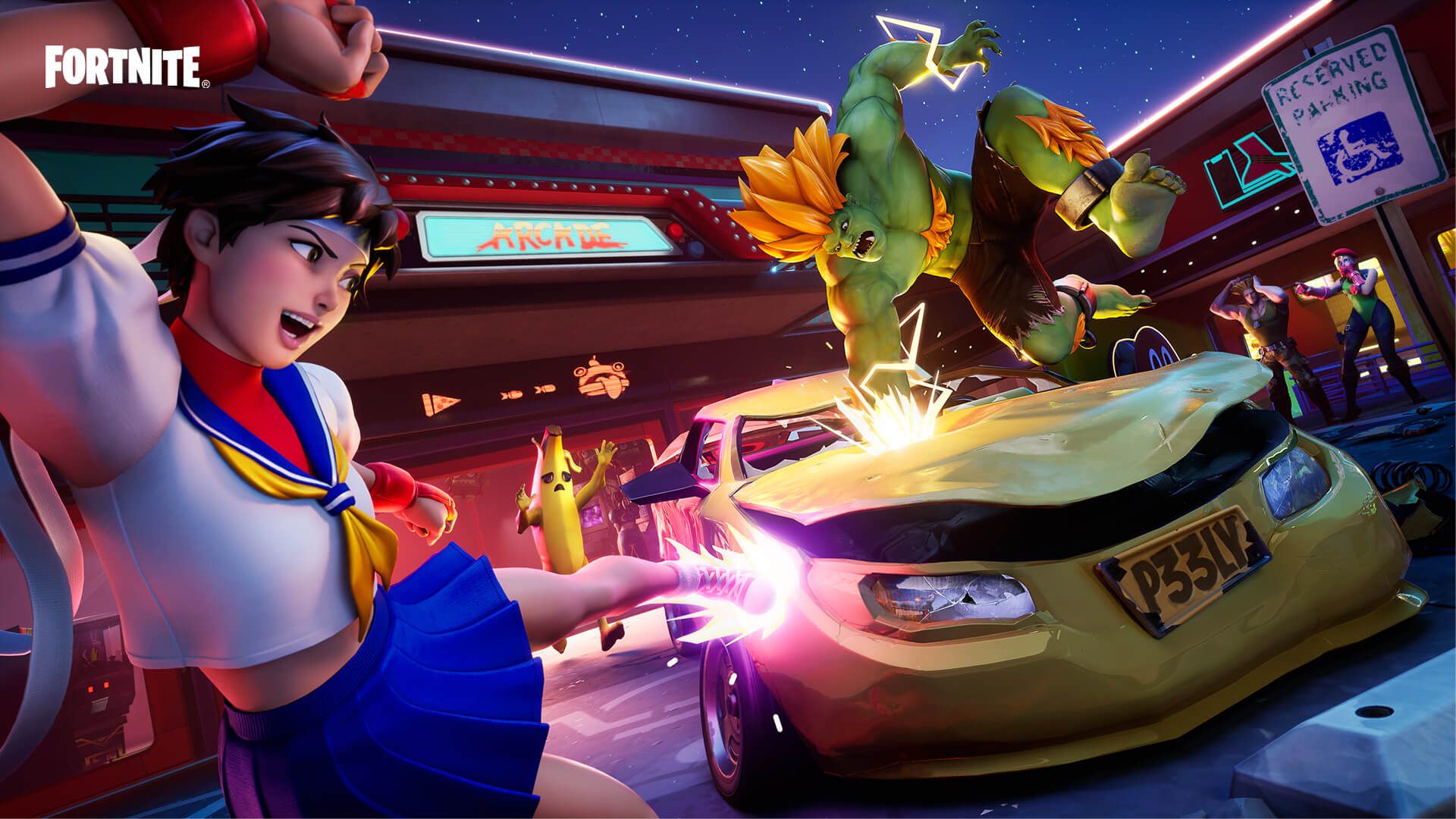 Each tournament will be approximately 3-hours long, with teams able to play a maximum of 10 matches. Points will be awarded based on the following scoring system:
Scoring
Victory Royale: 25 Points
2nd: 22 Points
3rd: 20 Points
4th: 18 Points
5th: 17 Points
6th: 16 Points
7th: 15 Points
8th: 14 Points
9th: 13 Points
10th: 12 Points
11th: 11 Points
12th: 10 Points
13th: 9 Points
14th: 8 Points
15th: 7 Points
16th: 6 Points
17th: 5 Points
18th - 19th: 4 Points
20th - 21st: 3 Points
22nd - 23rd: 2 Points
24th - 25th: 1 Point
Each Elimination: 1 Point
You'll need to be at level 50 or higher on your Epic account to take part, and must have Two-Factor Authentication enabled. You are free however to compete on both days if you'd like.
Full details and entry requirements can be found in the Blanka & Sakura Cup Official Rules.