It's time to get out there and prove that you have what it takes to dominate in Fortnite Chapter 3.
Boom! It's Epic Games' first day back from their holiday break and they've already dropped a brand-new Solo event announcement. Leakers are also expecting a small content update on Tuesday, January 4, so it really is all systems go.
After the initial honeymoon period of exploring the Chapter 3 Island and testing out all the new gadgets settled down, Fortnite esports fans were left hankering for competition. Luckily tournament season is finally here, and things are going to start coming at us thick and fast over the next few weeks.
To kick it all off, Epic is hosting the Fortnite All Valley Cup on Saturday, January 8. This is a slightly more casual affair with no money on the line, but after an extended break, everyone is bound to be playing to win.
This is a Solo Cup following the standard formula, i.e., players have three hours to complete up to ten matches, earning points for both eliminations and placement. Check out the scoring system below:
Scoring
Victory Royale: 30 points
2nd: 25 points
3rd: 22 points
4th: 20 points
5th: 19 points
6th: 17 points
7th: 16 points
8th: 15 points
9th: 14 points
10th: 13 points
11th - 15th: 11 points
16th - 20th: 9 points
21st - 25th: 7 points
26th - 30th: 5 points
31st - 35th: 4 points
36th - 40th: 3 points
41st - 50th: 2 points
51st - 75th: 1 point
Each Elimination: 1 point
Prizing
There are three Sprays up for grabs, each celebrating the recent Cobra Kai collaboration. Which ones you win will depend on how well you perform overall.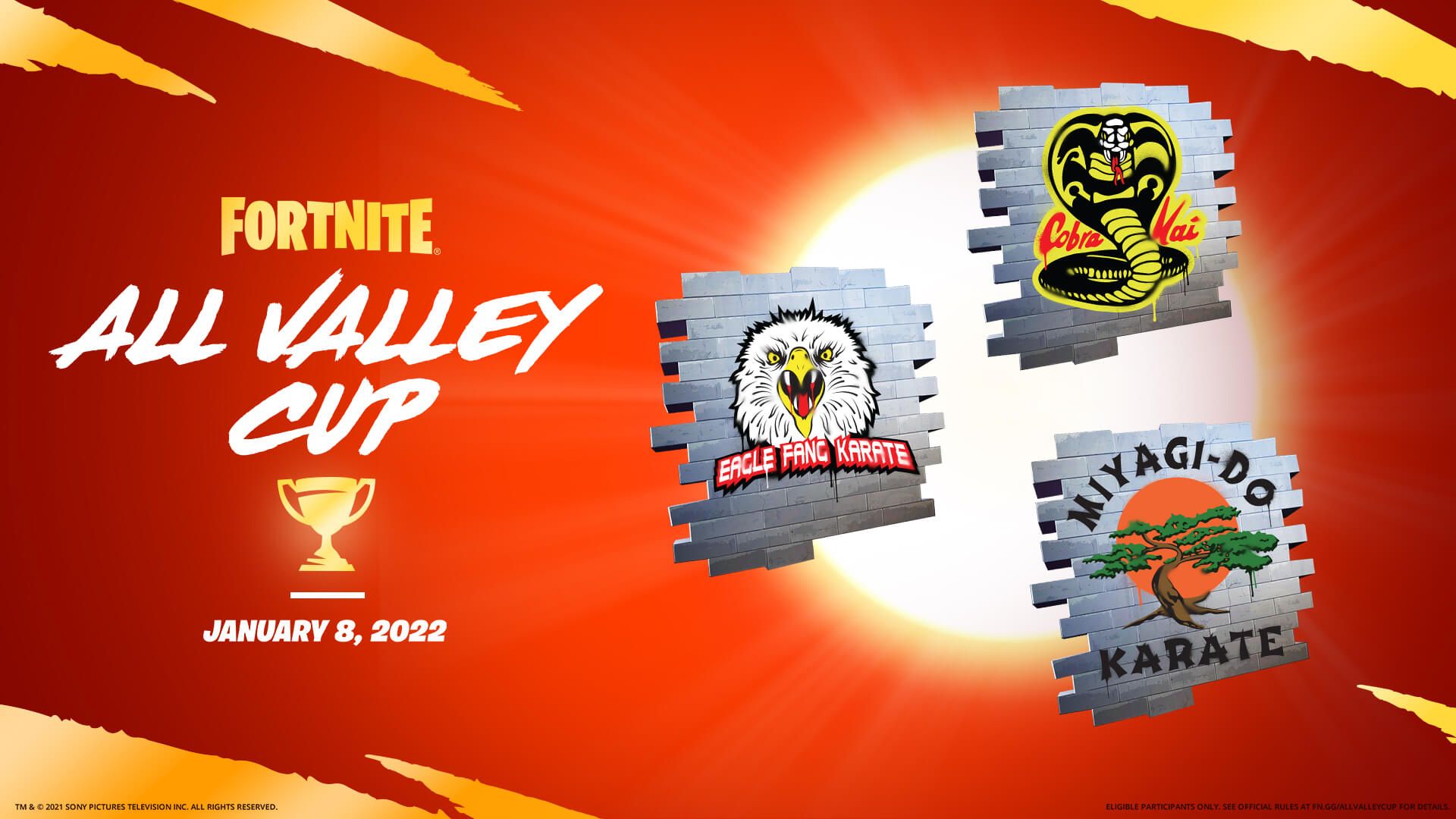 Top 50% - Cobra Kai Spray
Top 30% - Cobra Kai Spray & Miyagi-Do Spray
Top 10% - Cobra Kai Spray, Miyagi-Do Spray & Eagle Fang Spray
The Fortnite All Valley Cup is open to anyone with an Epic Account level of 50 or higher, regardless of Arena rank. You simply need to ensure that you have Two-Factor Authentication enabled, and head to the Compete tab in-game to check your local start time.
We will have a live leaderboard available soon via our Events page and full tournament details can be found in the All Valley Cup Official Rules.