It sounds as though Fortnite's latest season is only just getting started!
Fortnite Chapter 3 has been packed with content so far, most recently with the ongoing Winterfest event. Epic Games staff are now taking a well-earned break for the holidays, but don't worry there's plenty more on the horizon.
With massive creators like CouRageJD, who has said that this is the most fun he's had on Fortnite since Chapter 1 Season 9, falling back in love with the game, the developers will be keen to keep the hype going.
Leaks suggest that a mid-season update containing some pretty major changes is set to drop in January. Here's what to expect:
Weather Conditions
In the Chapter 3 Overview Trailer, it was teased that new types of weather effects would be arriving later in the season. Prepare for the Island to be bombarded by lightning and tornadoes.
According to prominent dataminer @Mang0e_, the lightning will strike players, launching them into the air without dealing fall damage and temporarily doubling their movement speed. Cars, trees and other objects can also be hit, and may potentially catch fire.
Tornadoes will pick up and throw almost anything within their circumference and can last up to 8 minutes. An icon on the mini map will alert you of their presence and you can use the glider redeploy to aid your rotations.
Map Changes
One of the biggest complaints from Fortnite Chapter 2 was the lack of map evolution. We already know that arguably the most popular POI of all time, Tilted Towers, is returning soon.
Tilted will be gradually uncovered as the snow begins to thaw. The only concern for fans is that it appears that all snow is scheduled to melt. Having a mixture of biomes is something that keeps matches feeling fresh and gives that feeling of adventure.
Additionally, it appears that a cave location similar to The Grotto is on the way. "Covert Canyon" will be an underground IO base and is sure to be hotly contested.
Mythic Weapons
Speaking of Covert Canyon, @HYPEX has stated that this is probably where the new Mythic Stinger SMG will be found. As usual, you'll need to eliminate a boss NPC to acquire this gun, which deals an insane 48 headshot damage.
There are also Mythic versions of the Striker Pump Shotgun and Sidearm Pistol in the works. Whether these will drop alongside the SMG or Epic is saving them to introduce further down the line is unclear.
Dinosaur
It's not just Tilted Towers waiting patiently beneath the snow, a large breed of dinosaur codenamed "Butter Cake" has been hibernating in a few spots towards the northwest of the Island.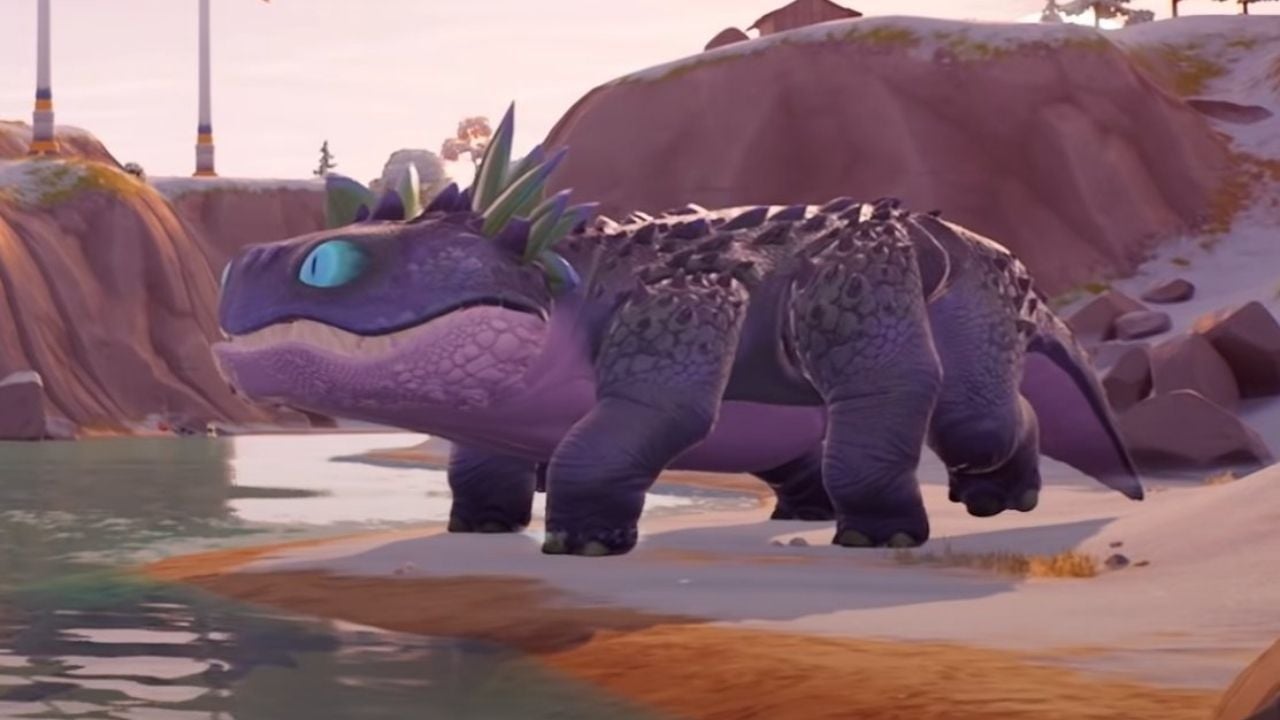 This is rumoured to be the first rideable wildlife in the game and they will have a blowhole which can be used to redeploy your glider. A new berry consumable will spawn nearby these dinosaurs and they will drop 50HP pieces of meat upon death.
So there's a lot of content to look forward to, and it seems like a bunch of it will be part of the same patch. As for when this will release, Hypex has tentatively predicted January 18. This falls on a standard update day and lines up with all the leaked upcoming challenges as well as Titled Towers' fourth birthday.