Based on these leaks, Fortnite may look very different after the next update.
Fortnite's annual Halloween celebration "Fortnitemares" officially started October 5. Since then we've had a few spooky goings on including new skins and a special Creative Hub, but nothing substantial has changed gameplay-wise.
The v18.20 patch earlier this week was also pretty barebones, most notably adding a community vote to introduce either the Combat Assault Rifle or Combat SMG. However, now we're a bit deeper into the month, it sounds like something more substantial is on the way.
A handful of popular Fortnite creators were recently sent a mysterious box containing a series of cards with pictures and accompanying riddles. NRG streamer "AussieAntics" posted a video sharing the contents of the package as well as his thoughts on what the clues point to, and let's just say it sounds exciting!
One card shows an image of what appears to be a pickaxe, or more specifically a scythe. The description reads "Swing, swing away. Not with your pickaxe. But the Sideways way".
It seems only logical that this refers to the Sideways Scythe, a new melee weapon first leaked on day one of Season 8. According to dataminer @iFireMonkey, the Sideways Scythe will feature both Dash and Smash attacks, siphon health from hit players and has five "passive upgrades".
It also looks like the previously rumoured Cube Town POI is set to arrive soon. Another card depicts a golden cube and its hint reveals "The Cubes are coming home. Their new home, where they'll rule from the center. It's their majesty they treasure".
With the gold "Queen" cube relocating to the middle of the Island in the last couple of days, it's safe to predict that this area, which up till now remains unchanged from last season, will become Cube Town. Leaks suggest that this will be a large named location with lots of chests and loot.
"Watch out for the tall one. Lest he pull you to the dark land with he himself to overcome" says another teaser. This time, the card displays a pair of beastly arms that may be familiar to some.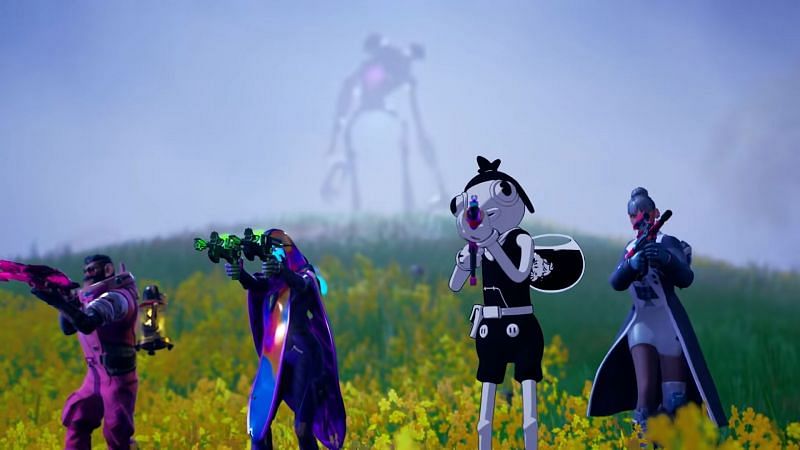 Aussie and many others believe this is referencing "Siren Head", a huge, long-limbed monster, lurking in the background of the Season 8 Battle Pass trailer. The leading theory is that this will be an NPC boss in-game that players can fight and potentially even ride. Leaker @HYPEX reports that Siren Head drops 50 Cube Shards, heals and one or multiple Legendary or Mythic weapons upon elimination.
The final card appears to have been foreshadowing the Tricks and Treats Bundle Outfits that came out today. They are customizable with over 10,000 possible combos, including masks of fan favorite skins like Fishstick and Beef Boss.
Though nothing is confirmed we can expect these predictions to be proven right or wrong in a patch either next week or the following week. This could be one of the biggest content updates we've seen yet.