Learn how to unlock the Superman Outfit in Fortnite, plus try your luck with a new weapon and game mode.
Fortnite Chapter 2 Season 7 is showing no signs of slowing down in terms of fresh content. Epic Games has deployed yet another mid-patch hotfix to give us even more new toys to enjoy, as well as an alternative competitive playlist.
The Prop-ifier
Aliens continue to infiltrate the Battle Royale Island and their advanced technology is everywhere. This latest piece of kit will have you blending in with your surroundings like a true extraterrestrial.
Pull out the new Prop-ifier weapon to scan the vicinity for objects that you can transform into. While disguised, you will be able to either move around or lock into place and hide. Be wary however, when sitting still your prop will occasionally glitch, warning potential onlookers that everything may not be as it seems.
Hop in-game now to try out the Prop-ifier, which can be found in Chests, on top of Abductors, and aboard the Mothership. As with many of these more experimental items, it is not currently available in competitive modes.
Arena Zone Wars
Speaking of competitive modes, Arena Zone Wars is now live and ready to play. Based on the popular Fortnite Creative mini-game, this playlist is designed to give fans a fun new way to scratch that competitive itch.
Epic has teamed up with Creative builder "Enigma" to create a fast-paced, 32 player, Duos Zone Wars map. For those unfamiliar, the mode is designed to simulate the chaos and excitement of an intense tournament end-game, without having to go through the process of looting, farming etc.
Similar to previous Arena-based LTMs, you will earn Hype points (separate to normal Arena Hype) as you play Arena Zone Wars. Matchmaking will put you into lobbies with people who have a similar amount of Hype to keep thing more interesting.
Superman arrives
The quests to unlock this season's not so secret Battle Pass bonus skin are also now available. Work through various challenges to secure the Superman Outfit, along with multiple extra styles and a bunch of accessories.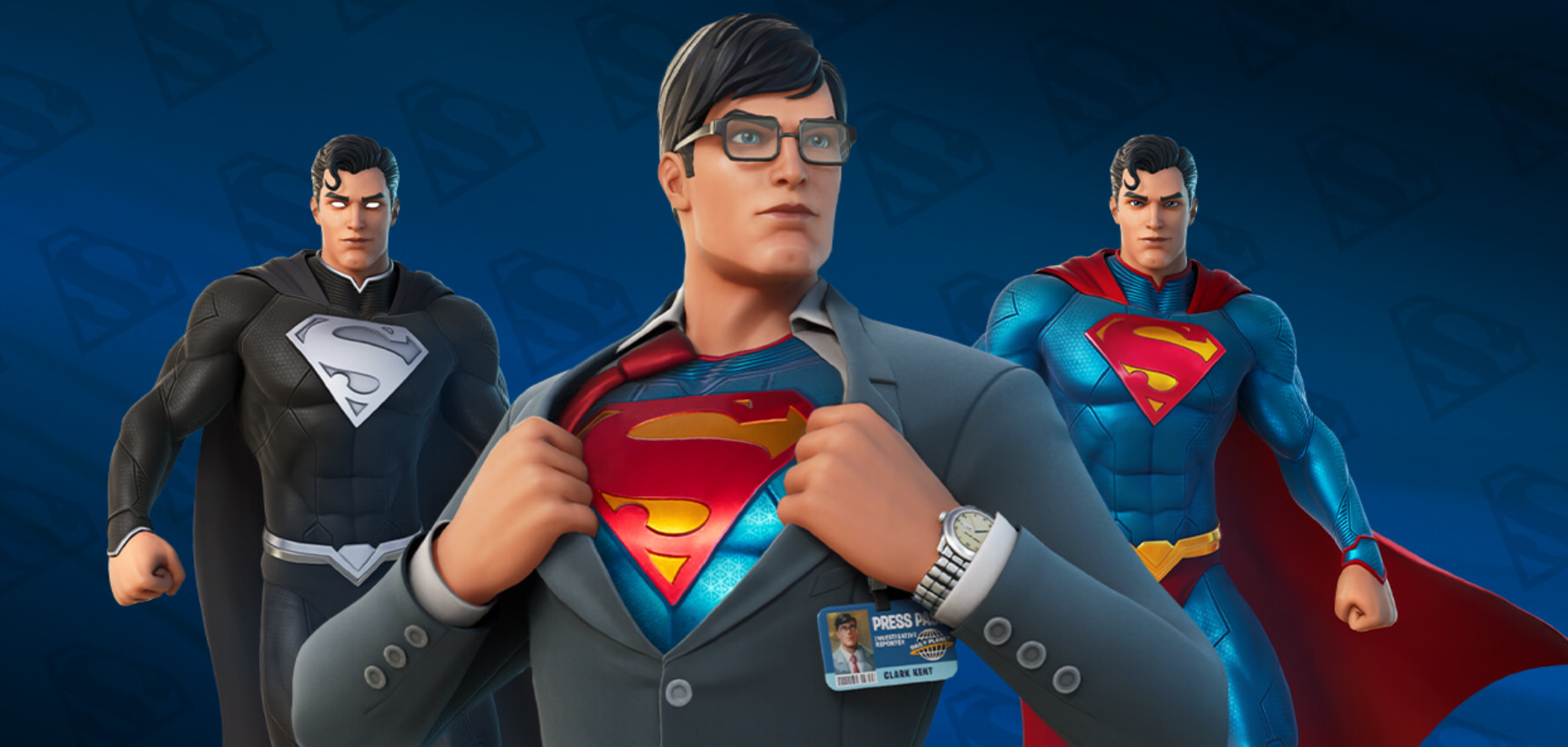 Check out the quests and their associated rewards below:
COMPLETE 1 QUEST FROM CLARK KENT, ARMORED BATMAN, OR BEAST BOY
Begin helping to see what happened to Clark Kent's memories. Unlocks the Call to Action Emoticon.
COMPLETE 3 QUESTS FROM CLARK KENT, ARMORED BATMAN, OR BEAST BOY
Clark Kent digs deep to illuminate his past. Unlocks the Superman Shield Spray.
COMPLETE 5 QUESTS FROM CLARK KENT, ARMORED BATMAN, OR BEAST BOY
Clark Kent remembers he's Clark Kent… and Superman! Unlocks the Clark Kent Outfit.
GLIDE THROUGH 3 RINGS AS CLARK KENT
His powers begin to return. Unlocks the Daily Planet Back Bling.
USE A PHONE BOOTH AS CLARK KENT
His powers are back, thanks to your help. Go to a Phone Booth to suit up! This Quest unlocks the built-in Secret Identity Emote, which transforms Clark Kent into Superman and vice versa.
Additionally, by completing a certain number of Chapter 2 Season 7 Epic Quests, you can earn the "Shadow" alt style for Clark Kent, Superman and other cosmetics in the set.
For more details on Superman's quests, read the official "DC's Superman Flies Into Fortnite" blog post from Epic Games.