Fortnite's upcoming Rift Tour event promises to take players on a journey to magical new realities.
Since the beginning of Season 7, Fortnite dataminers have been posting regularly about potential future in-game events. The first of these turned out to be the Cosmic Summer celebration, and following the recent v17.21 patch, a countdown appeared which many predicted to relate to the impending destruction of Coral Castle and other POIs.
Epic Games has now officially confirmed the "Fortnite Rift Tour". They haven't given away too much, but describe it as a "musical journey into magical new realities where Fortnite and a record-breaking superstar collide".
Escape into the Rift

Take a musical journey to magical new realities and drop into the Rift Tour August 6-8 https://t.co/1ljUFhYrL5 pic.twitter.com/GFIUYB5hGC

— Fortnite (@FortniteGame) July 29, 2021
The general consensus among trusted leakers is that this artist will be chart-topping American singer, Ariana Grande. This means we can expect a concert with a twist, think mind-blowing special effects and stunning visuals, similar to last year's monumental Travis Scott event.
Rift Tour Tab
A new "Rift Tour" tab has appeared in-game next to the Item Shop. Here you can see the full schedule in your local time and express interest in attending.
There will be five shows in total spanning three days, to give fans all over the world a chance to enjoy the experience. You can go to as many as you like, just switch to the corresponding region in your game settings.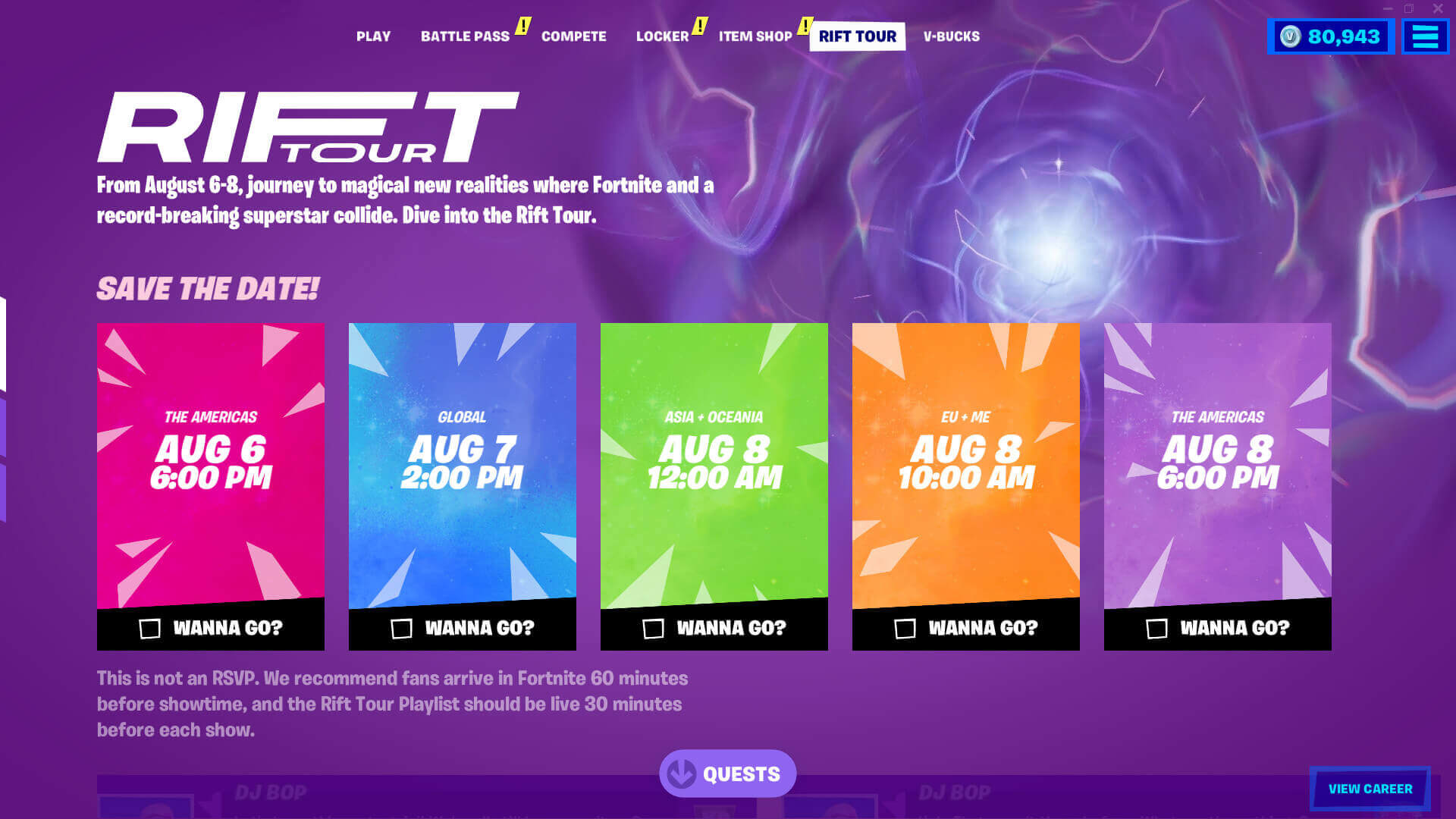 Epic recommends loading up Fortnite at least 60 minutes before the start time to ensure you don't miss out.
Earn Rewards
Between now and August 8, a series of special Rift Tour Quests will allow you to unlock some fresh gear for your Fortnite locker. The first of these prizes include the Rift-sterpiece Spray, Cloudy Kitty Emoticon and Cosmic Cuddles Loading Screen, plus you'll get a new Umbrella just for turning up.
Rift Tour Prize:

UNLOCK A NEW UMBRELLA JUST FOR ATTENDING THE EVENT! pic.twitter.com/afszywnRas

— iFireMonkey (@iFireMonkey) July 29, 2021
Challenges
Interact with the Rift Tour posters (1) to earn the Rift-sterpiece Spray

Use an Alien Hologram Pad on top of the Party UFO (1) to earn the Cloudy Kitty Emoticon

Save the date in the Rift Tour tab and play a match (2) to earn the Cosmic Cuddles Loading Screen
Further details on the Rift Tour event are set to be published on August 2, so this is probably when the performer will be revealed.