Are you ready to become a Champion? Bugha enters the Fortnite Icon Series this July.
Following his dominant performance in the 2019 Fortnite World Cup Solo Finals, Kyle "Bugha" Giersdorf became a global celebrity almost overnight. Aged just 16 at the time, the young star conducted himself admirably during a series of high-pressure media appearances covering his $3,000,000 victory.
Two years on and Bugha remains one of the most consistent pros in the game, still loyal to Sentinels and regularly streaming to a strong community of fans. On top of this, his charity work with Gamers Outreach has helped thousands of hospitalized children to feel a sense of normalcy in the most trying of situations.
On Monday, an emotional Bugha revealed his upcoming Fortnite Icon Series Outfit to an audience of over 100,000 viewers on Twitch. He joins NBA legend LeBron James, chart-topping rapper Travis Scott and a select group of other pop culture phenoms in this exclusive club.
The Bugha Set
Bugha's Icon Series Set hits the Item Shop at 8 PM ET, Tuesday, July 20. The Outfit itself has three unique styles: Default, Bugha Elite, and World Champion Bugha.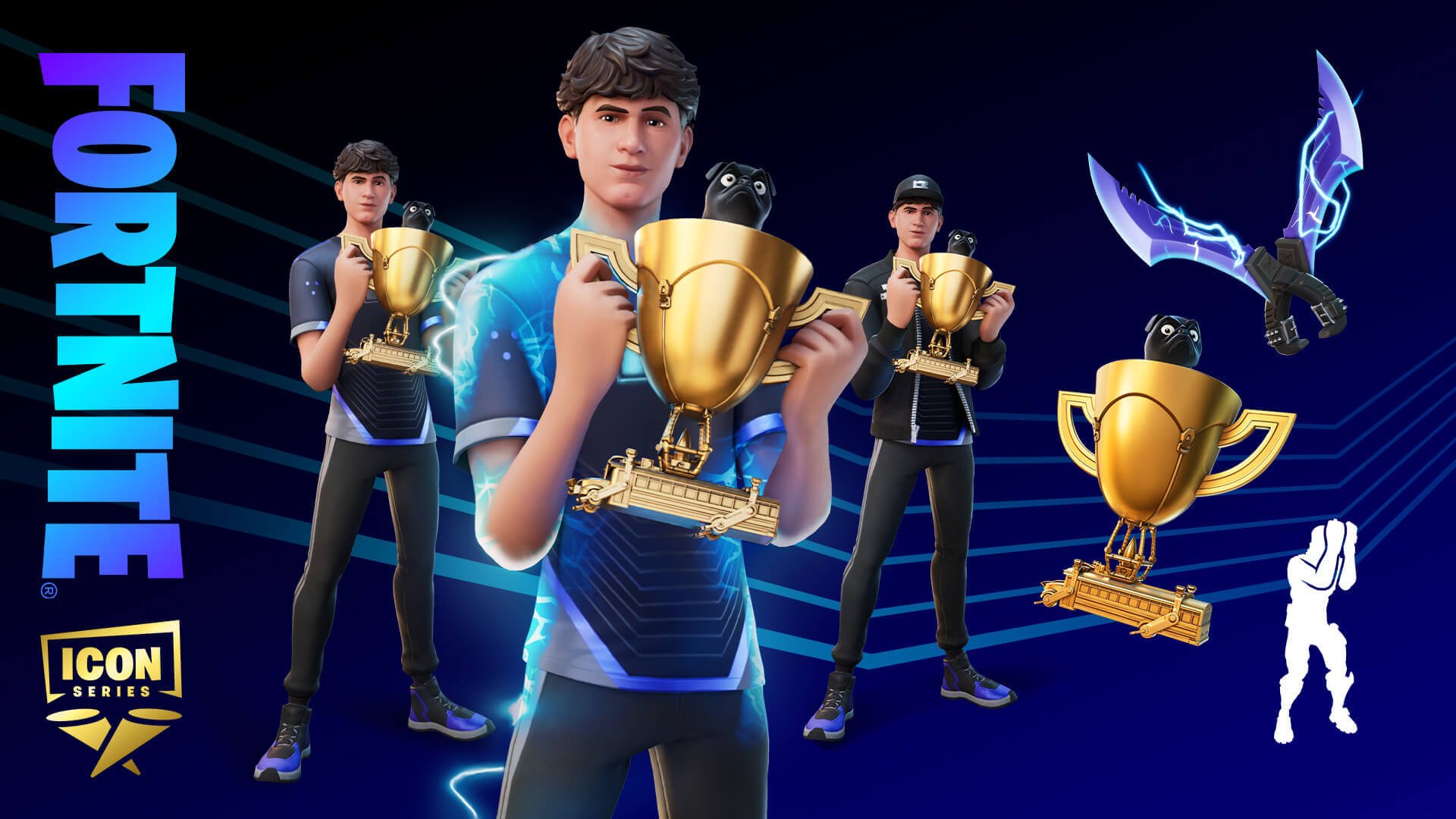 Also included in the set is the Zoey Trophy Back Bling (featuring Bugha's adorable pug Zoey), the Bugha Blades dual Pickaxe, and the Bring It Around Emote, based on his signature dance move, the Homer Grind.
Bugha's Late Game Tournament
To celebrate the announcement, Bugha has teamed up with Epic to create an exciting new game mode. Bugha's Late Game Arena places Trios straight into the heat of battle, with the storm already closing in and a predetermined competitive loadout in hand.
From July 20 to July 28, play this action-packed mode to earn Hype separate from normal Arena. Those who collect a minimum of 1500 Hype before July 28 will be eligible to take part in Bugha's Late Game tournament, where a $100,000 total prize pool is up for grabs.
Champion of the 2019 Fortnite Solos World Cup, Content Creator and now Icon, @Bugha is joining the Icon Series!

See his Outfit and learn all about his competitive focused Arena & Tournament where you can prove yourself for cash prizes.

Info: https://t.co/dllugKqh67 pic.twitter.com/NPW0kl9WEX

— Fortnite (@FortniteGame) July 19, 2021
Format
The event occurs across two rounds, each on July 28. Sessions last approximately two hours, with teams able to complete a maximum of ten matches.
Round 2 Qualification
Europe & NA East – Top 900 Trios from Round 1

NA West & Brazil – Top 600 Trios from Round 1

Middle East, Asia and Oceania – Top 300 Trios from Round 1
Prizing
Europe
1st: $14,000
2nd: $6,500
3rd: $4,000
4th: $3,000
5th: $2,500
6th - 10th: $2,000
NA East
1st: $8,750
2nd: $4,100
3rd: $2,500
4th: $1,850
5th: $1,550
6th - 10th: $1,250
NA West
1st: $3,500
2nd: $1,650
3rd: $1,000
4th: $750
5th: $600
6th - 10th: $500
Brazil
1st: $3,500
2nd: $1,650
3rd: $1,000
4th: $750
5th: $600
6th - 10th: $500
Asia
1st: $2,500
2nd: $1,000
3rd: $650
4th: $450
5th: $400
OCE
1st: $2,500
2nd: $1,000
3rd: $650
4th: $450
5th: $400
Middle East
1st: $2,500
2nd: $1,000
3rd: $650
4th: $450
5th: $400
As usual, all players must have Two-Factor Authentication enabled to participate. A breakdown of the scoring system and full entry requirements can be found in the Bugha's Late Game Tournament Official Rules.