Epic continues to impress with the collaborations, today announcing a new Euro 2020-inspired link up.
Having been pushed back a year due to Covid-19, the second biggest event on the international football calendar finally kicks off this Friday. Celebrate the arrival of Euro 2020 inside Fortnite with some fresh additions to the Icon Series and the first big tournament of Season 7.
UEFA Euro 2020 Cup
Starting June 16, the Fortnite UEFA Euro Cup will give players their first chance to prove themselves in the new Solo meta. As well as a total $50,000 prize pool, a pair of football-themed cosmetics are up for grabs to those who hit a certain point threshold.
Unlike most of these one-off competitions, the Euro Cup will take place across two days, with one round on each. Only the top performers in each region for Round 1 will progress to Round 2, which is where the cash prizes will be won.
?? Players of Fortnite will soon be able to celebrate the start of #EURO2020!

???? The Fortnite Cup on 16 and 17 June!

Find out more ??

— UEFA EURO 2020 (@EURO2020) June 7, 2021
Those in Europe, NA East, NA West and Brazil will need to place in the top 1,000 to qualify for day 2, while in Middle East, Asia and Oceania just the top 500 will make it.
View our live UEFA Euro 2020 Cup leaderboards here.
Anyone who secures at least 10 points will unlock the Winner's Cup Emoticon, and all players who earn 20 points or more will receive the Kick it! Spray. See how the money will be divided up following Round 2 below:
Prizing
Europe
1st - $10,000
2nd - $5,000
3rd - $2,500
4th - $1,500
5th - $1,000
NA East
1st - $5,000
2nd - $2,500
3rd - $1,250
4th - $750
5th - $500
NA West
1st - $2,500
2nd - $1,500
3rd - $1,000
Brazil
1st - $4,000
2nd - $2,000
3rd - $1,000
4th - $500
Asia
1st - $1,500
2nd - $700
3rd - $300
Oceania
1st - $1,500
2nd - $700
3rd - $300
Middle East
1st - $1,500
2nd - $700
3rd - $300
Both rounds will last for approximately 3 hours, with players completing a maximum of 10 matches. Points are awarded for placement and eliminations, with Round 2 valuing kills slightly higher.
Competitors must have Two-Factor Authentication enabled and be at Epic Account level 30 to enter. There is no minimum Arena division for this tournament, everyone can participate.
Check the scoring format for each day, and full entry requirements in the UEFA Euro 2020 Cup Official Rules.
New Icon Series Outfits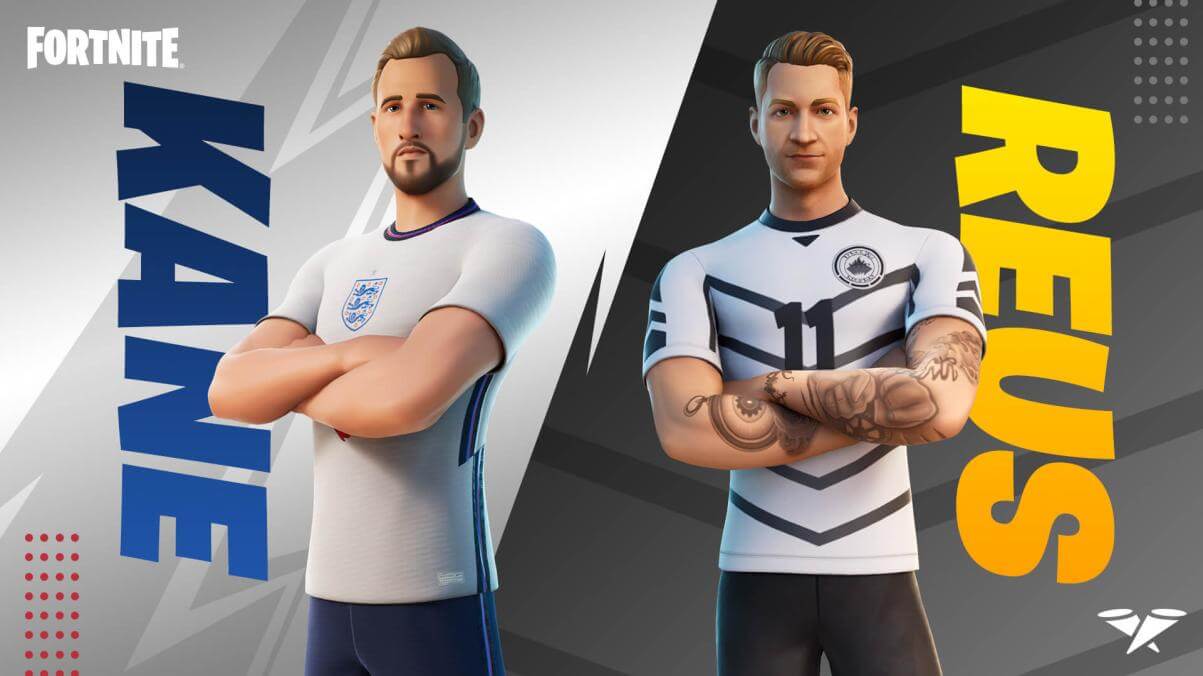 On June 11 at 8pm ET, England Captain and star striker Harry Kane and German phenom Marco Reus arrive as the latest additions to the Icon Series. They join Neymar Jr, who appeared as last season's secret Battle Pass skin, as the first few pro footballers to be immortalized inside the world of Fortnite.
The Harry Kane Outfit and accompanying HurriKane Emote and Back Bling will be available via the Item Shop, as will the Marco Reus Outfit, Marcinho Emote and Back Bling. Alternatively, fans can pick up both new skins together in the Kane & Reus Bundle.