Shapeshifting Teen Titans fan favorite, Beast Boy, makes his debut in Fortnite this Thursday.
Epic Games recently revealed the full Item Shop schedule for a selection of new DC-themed Outfits coming as part of the Batman/Fortnite: Zero Point miniseries. Their collaboration with the world-famous comic book giant doesn't end there though…
Garfield Mark Logan, otherwise known as Beast Boy, is heading to the Island to join in the Primal fun. The Teen Titans hero arrives this week, with his own set, a one-off Duos event, and some awesome in-game rewards.
Shapeshifter and self-proclaimed "cutest" of the Teen Titans, @DCComics Beast Boy is coming to the Island ??

Learn about his Set and the Teen Titans Cup where you can earn his Outfit and exclusive Beast Boy & Raven rewards created by @_gabrielpicolo!

??: https://t.co/qdSplo89Aa pic.twitter.com/INMl4Ai1It

— Fortnite (@FortniteGame) May 10, 2021
The Beast Boy Outfit, along with the BB's Beast Bat Pickaxe and Couch Titan Back Bling will be available in the Fortnite Item Shop from 8 PM ET on Thursday, May 13. His skin includes an additional Garfield Logan style, and the built-in Go Ape Emote lets you morph into his wild green Gorilla form.
Teen Titans Cup
Can't wait till Thursday? No problem! On May 12, the Teen Titans Cup gives players the chance to win early access to the Beast Boy set. Top performers in this Duos tournament will receive the new Beast Boy skin, plus his Back Bling and Pickaxe, all without spending a single V-Buck.
Teams can complete a maximum of 10 matches within a three-hour period, accumulating points for both eliminations and placement. Below you can see where you need to finish to earn the Beast Boy cosmetics:
Europe – Top 2,625

NA East – Top 1,375

NA West – Top 750

Brazil – Top 750

Asia – Top 250

Oceania – Top 250

Middle East – Top 250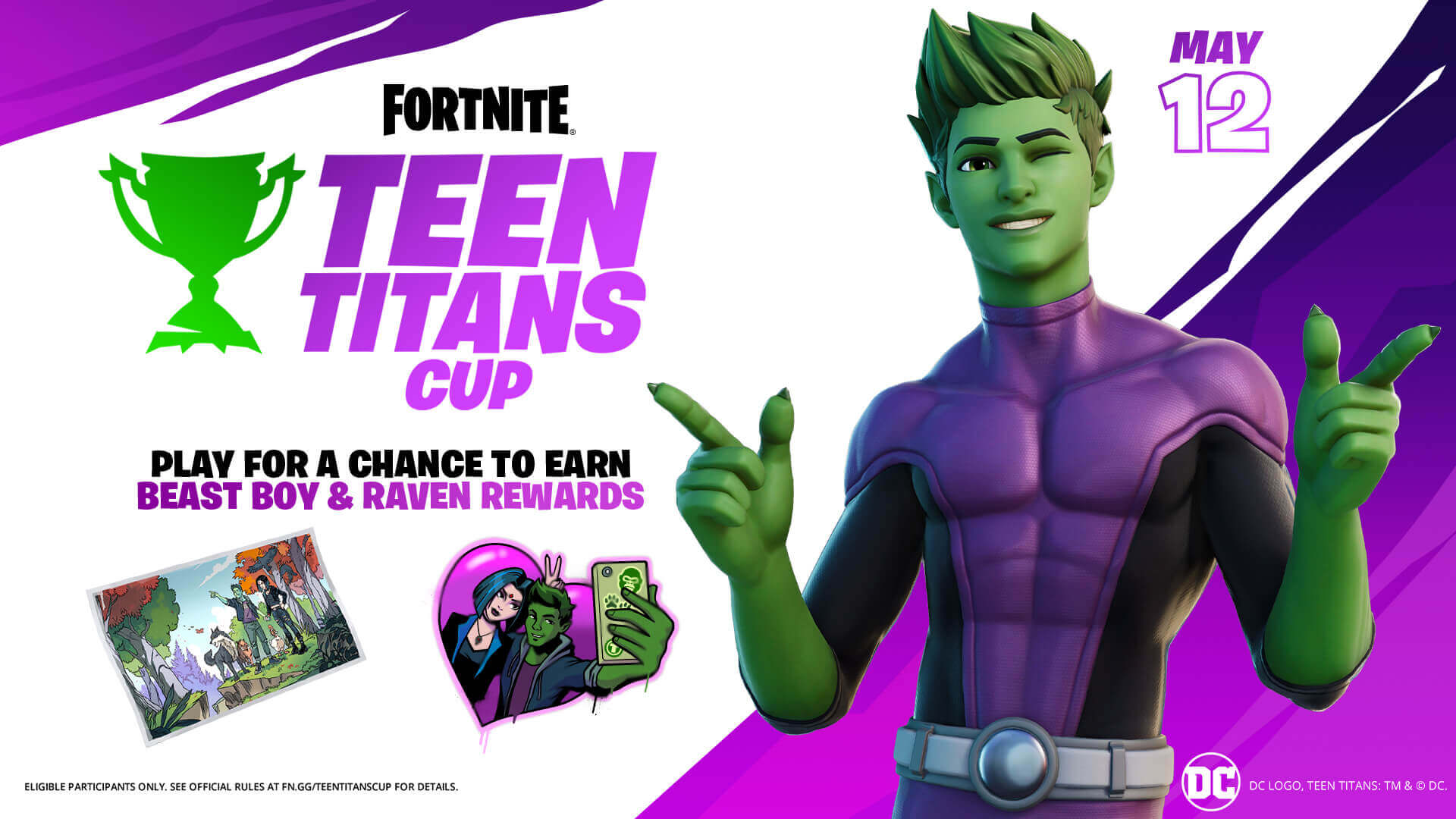 Check our Events Page to find your region's start time and view the live leaderboards.
As a bonus, anyone who participates in the Teen Titans Cup will be gifted the new Beast Boy & Raven Spray as a thank you. Those who score eight points or more will also unlock the BBRae Loading Screen, designed by artist Gabriel Piccolo.
For more details on the format and entry requirements, read the Teen Titans Cup Official Rules.