Celebrate Valentine's in style this year and maybe even win yourself some in-game goodies!
Starting today, February 8, jump into Fortnite to experience the Hearts Wild Valentine's event. Whether you play casually, competitively, or somewhere in between, there's something for everyone to enjoy.
Hearts Wild Cup
Grab a Duo and take part in the Hearts Wild Cup for a chance to earn early and free access to the unreleased Lovely Outfit. The tournament falls on February 9 and local times can be found via our events page.
Love is in the air on the Island and things are gonna get wild... Hearts Wild!

Find love with Fishstick, Compete in the Hearts Wild Cup to earn an Outfit early, join in on some Team Battles, create your own Papercraft and more ??

Read all about it here: https://t.co/GrBNarsbk9

— Fortnite (@FortniteGame) February 8, 2021
Teams will complete a maximum of 10 matches within a 3-hour period, picking up points for both placement and eliminations as follows:
Scoring System
Victory Royale: 42 Points
2nd: 36 Points
3rd: 32 Points
4th: 30 Points
5th: 29 Points
6th: 28 Points
7th: 27 Points
8th: 26 Points
9th: 25 Points
10th: 24 Points
11th: 23 Points
12th: 22 Points
13th: 21 Points
14th: 20 Points
15th: 19 Points
16th: 18 Points
17th: 17 Points
18th: 16 Points
19th: 15 Points
20th: 14 Points
21st: 13 Points
22nd: 12 Points
23rd: 11 Points
24th: 10 Points
25th-29th: 9 Points
30th-34th: 6 Points
35th-39th: 3 Points
40th-44th: 2 Points
45th-50th: 1 Point
Each Elimination: 1 Point
Prizes will only go to the top performers from each region, so keep an eye on the live updated leaderboards to make sure you don't fall behind. Look below to see how well your Duo needs to place in order to win the Lovely skin and Back Bling:
Europe – Top 1,750

NA East – Top 875

NA West – Top 250

Brazil – Top 250

Asia – Top 125

Oceania – Top 125

Middle East – Top 125
For full details and entry requirements, be sure to read the Hearts Wild Cup Official Rules.
Community Battles
Between February 10–17, work with your favorite Fortnite Creators to earn a selection of in-game cosmetics. Complete a series of challenges to collect points for your team, with Pickaxes, Wraps, Sprays and more up for grabs.
Epic explained that they will release more information about Hearts Wild Team Battles in a future blog post, so stay tuned.
New Outfits
Don't worry if you come up short in the Hearts Wild Cup. The Lonely Outfit, as well as the new Cuddle King skin, will soon be available in the Item Shop.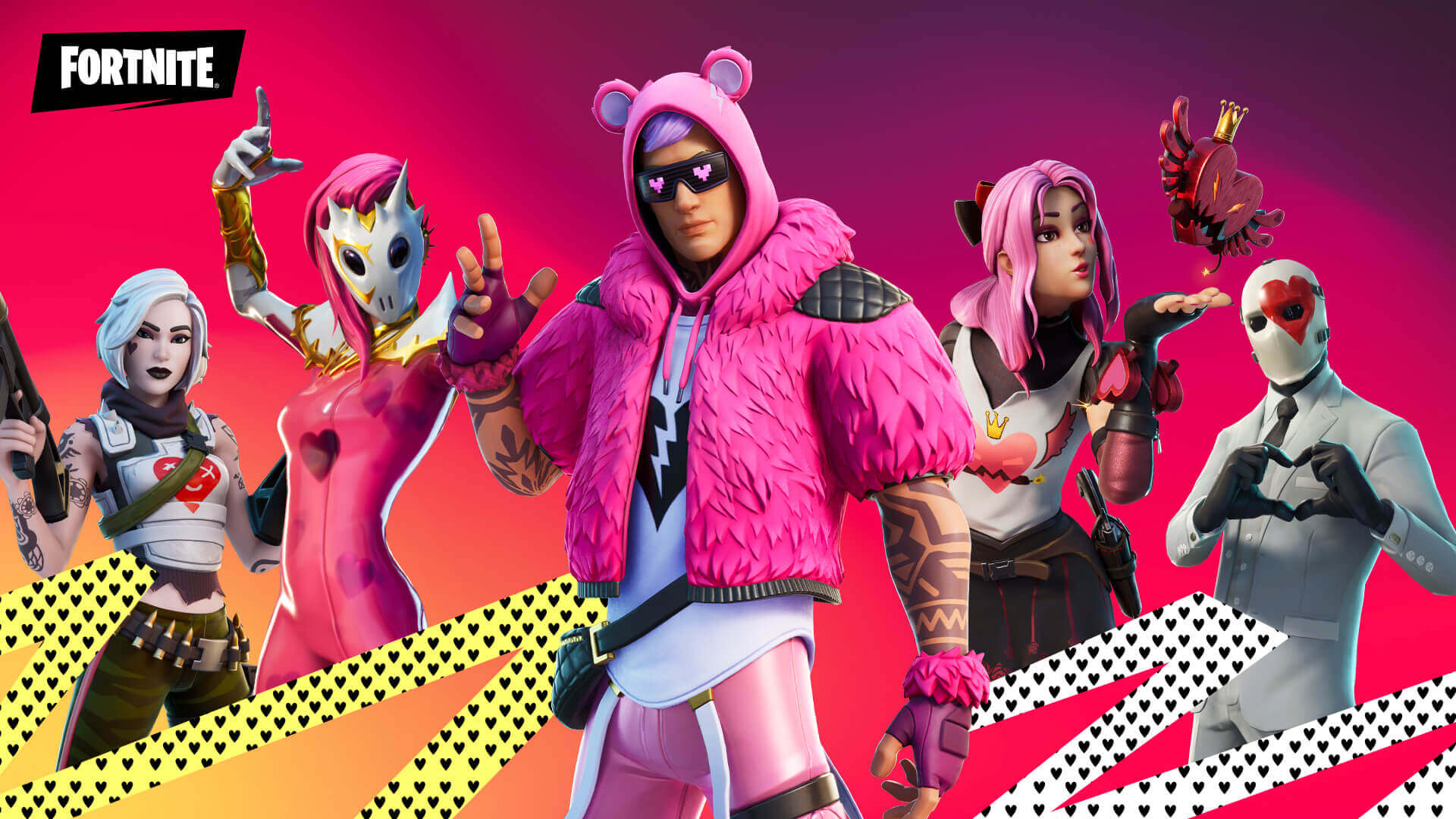 Additionally, expect to see previous offerings like Lovethorn and Wild Card back on sale.
More to come
On top of all this, the Hearts Wild Event has a couple of other tricks up its sleeve. Expect a fresh, Valentine's themed Creative Hub on Tuesday, potentially featuring some special maps to explore.
Following a successful launch during Halloween, Fortnite Papercraft is also making a return this week. Kicking off now and running until February 15, fans can head to the Fortnite Cosplay website to build masks based on a selection of popular characters.
Fishstick is looking for love but he needs your help. On Thursday, February 11, this week's quests go live, giving you the opportunity to play Cupid and net some extra XP along the way.