The Marvel Super Series draws to a close this week, but it's going out in style with two exciting new events.
Since the beginning of Fortnite's Marvel themed fourteenth season, Venom has been one of the most highly anticipated characters to enter the Battle Royale universe. His Smash & Grab ability was introduced exclusively to the Marvel Knockout LTM in patch v14.10, and now the villain turned anti-hero has his own tournament and skin.
On November 18, the Venom Cup will give players the chance to earn early access to the Venom Outfit, as well as the We are Venom Emote, Tendril Tote Back Bling and Symbiote Slasher Pickaxe. As with the previous Daredevil and Black Widow Cups, these cosmetics will later be available for purchase via the Item Shop.
? Venom Cup feat. Marvel Knockout LTM
? Duos
? Nov 18
?? Venom Outfit and Pickaxe
Blog: https://t.co/YxWP49YKvQ
Rules: https://t.co/8wxkzJPAei

Mark your calendars, the $1Million Super Cup is on Nov 21st!

— Fortnite Competitive (@FNCompetitive) November 17, 2020
This is a Duos competition, where teams can take part in a maximum of ten Marvel Knockout matches during a three-hour period.
Excitingly, the Venom Cup offers a better opportunity for you to win the prizes than of the other events in the series. This time there will be two sessions on the same day, meaning if you miss out in one, you get another go.
Prizing
In order to win the Venom skin, emote, back bling and pickaxe, your team must finish high enough on the leaderboard.
EU
Session 1: Top 350
Session 2: Top 1200
NA East
Session 1: Top 225
Session 2: Top 750
NA West
Session 1: Top 75
Session 2: Top 300
Full details and prize breakdowns for all regions can be found in the Venom Cup Official Rules.
$1M Super Cup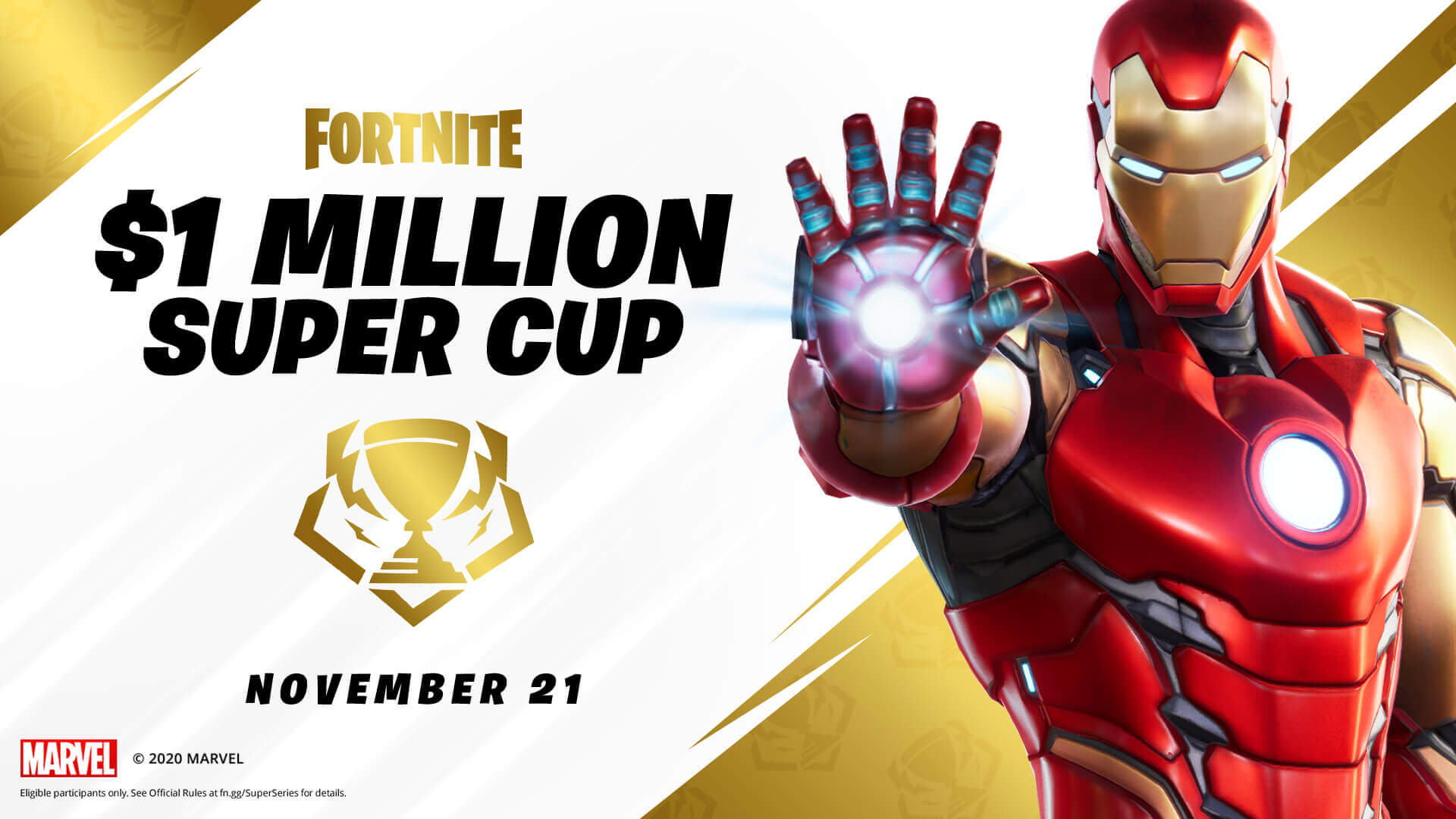 The Super Series is moving away from the Marvel Knockout LTM for its spectacular finale. Instead, the $1,000,000 Super Cup will combine mythic Superpowers with traditional Battle Royale gameplay, as well as a reduced material cap (200 per material).
Taking place on November 21, the event will see duos fight through two rounds of competition, with points being awarded for both placement and eliminations.
The second rounds of EU and NAE will be broadcast live on the official Fortnite Twitch and YouTube channels, with coverage beginning at 1pm ET. Whether you're a Marvel fan or not, it's bound to be an entertaining watch.
The full details and prize breakdown for each region can be found in the Super Cup Official Rules.