After an intense day of NA-East competition, two new Dreamhack champions are announced
For the first time since February, Dreamhack expanded their monthly tournament circuit to host their first team based tournament. November's iteration utilized the duos format, with pairs fighting for a $250,000 prize pool
Last week, Dreamhack crowned champions Vadeal and Noahreyli at the conclusion of the European segment. Despite not snagging a victory royale, the team finished with 352 points through six. Turns out - being the most consistent team puts you pretty high up on the leaderboard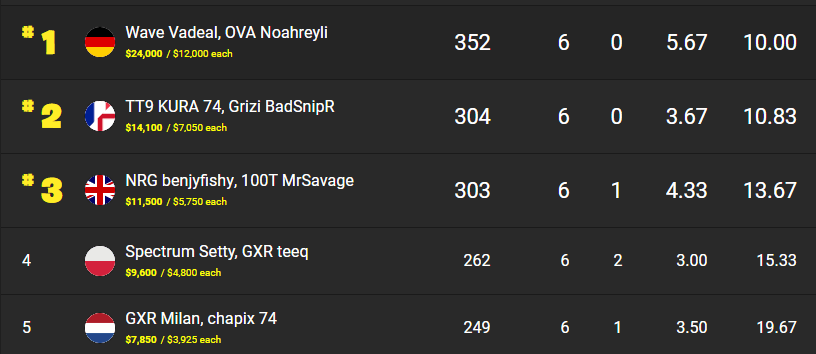 We saw some pretty big upsets over the pond; Mongraal and Mitr0 failed to qualify for the final leg. Tournament favorites Benjyfishy and MrSavage fell short of gold, but still managed to snag $11,500 with a 3rd place finish
Dreamhack's North America East semifinal and final events went down today with some big plays and a nail biting finish
In the end, the new org on the block XSET took home their very first major tournament championship when Knight and Shark topped the leaderboard
Here are the T3 players from November's NA East #DHFNOpen Grand Final! ??

??@KnightFN ?@RogueShark ($15,000)
??@Acornfn ? @JahqFN ($9,000)
??@bugha ? @AveryFN ($7,250) pic.twitter.com/oudXfCYDsh

— DreamHack Fortnite (@DreamHackFN) November 14, 2020
Coming from behind after 4, Knight and Shark took a healthy lead after fragging their way to a victory in game 5
? marks the spot for @KnightFN_ and @RogueShark in game 5 of the NA East Grand Finals

One game left ??

?? https://t.co/odyv9yMpBB | #DHFNOpen pic.twitter.com/Hs1j4TVZbW

— DreamHack Fortnite (@DreamHackFN) November 14, 2020
The duo was able to hold on and, in the end, scored a 9 point lead over second place finishers Acorn and Jahq
Interesting to note is that many regions took their claim at NA-East's prize pool. A double digit number of players that occupied the final lobby came from disadvantaged Europe and NA-West players that were able to surmount the higher ping issues
Take a look at XTRA Caleb and Vert's game winning final match; both players primarily compete on NA-West
The last match of the NA East Grand Finals went to @calebfnx and @SDverT! 6/6 games complete ?

Results coming up ?? https://t.co/odyv9yMpBB pic.twitter.com/cFdKGkwBvY

— DreamHack Fortnite (@DreamHackFN) November 14, 2020
The final win boosted the pair up to 20th place exactly - just enough for a pay jump from $600 to $1000. Not too bad for a single game!
Other notable finishes included Yung Calc and Furious, who won the semifinals and consistently kept towards the top of the leaderboard. They ended in 4th place and split $6,000
Overall feedback for the duos format is overwhelmingly positive, both from a player and spectator perspective. Some players didn't enjoy the narrow open to semifinal format where only 500 duos make it through 2 heats… but the field would have to tighten up at some point
One thing is for certain no matter what: Zayt will continue to bully Europe
why do i see EU vs NA beef on the TL? Only Thomas and Tayson should be able to trash talk you guys are all horrible except them

— NRG Zayt (@zayt) November 13, 2020
Obviously jabbing at Europe coming to his home turf, Zayt is a master troll. Unfortunately, he bantered himself into a 58th place finish for the semi-finals - just short of the money. Maybe EU is on top after all?
Keep up with all competitive updates by following us on Twitter!