The Llama-Rama event brings Fortnite and Rocket League together and gives players the opportunity to unlock exclusive loot for both games.
Rocket League is officially going free-to-play on Wednesday, September 23. From then on it will be available via the Epic Games store, and Epic are throwing a party to celebrate! Anyone who adds Rocket League to their Epic Games store library between September 23 and October 23 will also get a free $10 voucher for the Epic Games store.
The Fortnite x Rocket League crossover event, Llama-Rama, gets underway on Saturday, September 26. American DJ, singer and songwriter Slushii will kick things off with the live debut of an unreleased single in Party Royale as part of the ongoing Spotlight concert series. You may have heard his track "Luv u need u" on the Rocket League in-game radio or Fortnite's Radio Yonder.
That's not all though. By completing a selection of Rocket League challenges, gamers can earn some free cosmetics for both Fortnite and Rocket League. The final challenge will even allow players to unlock the Fortnite Battle Bus as a new vehicle in Rocket League!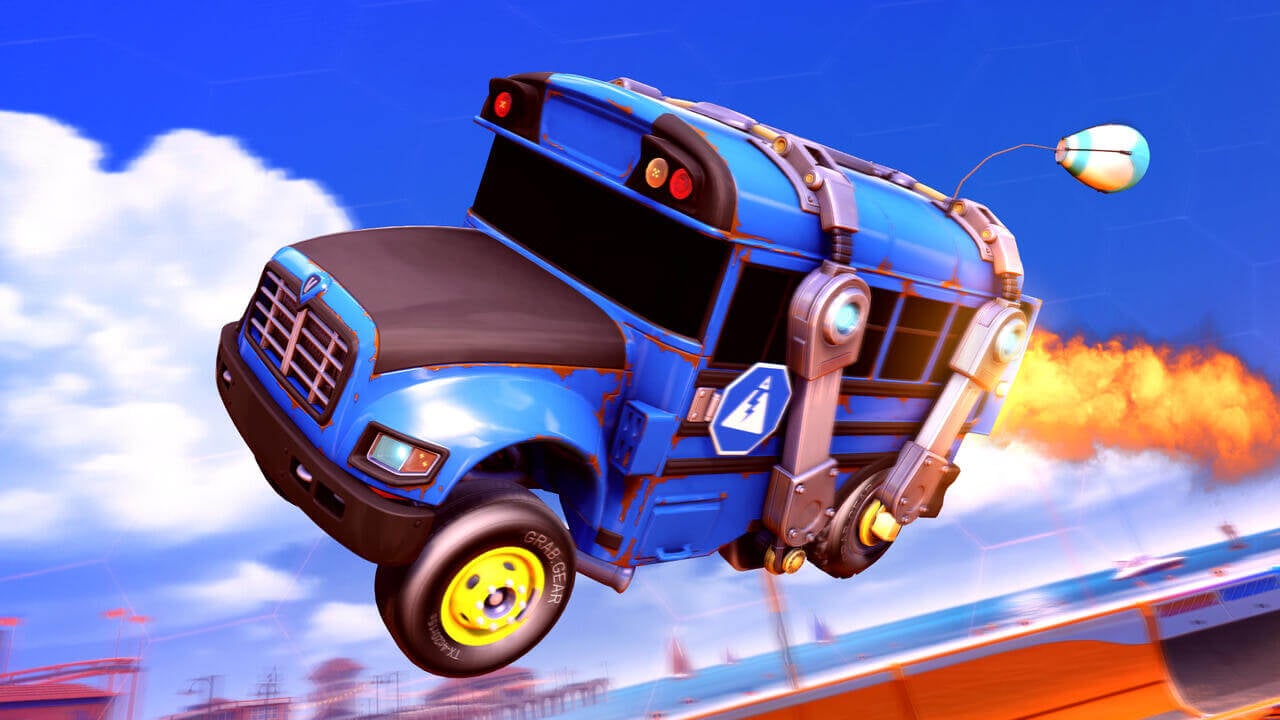 Check out the full list of challenges and their rewards below:
CHALLENGE 1: LLAMAS, START YOUR ENGINES!
Rocket League Challenge: Play an Online Match in Any Playlist
Rocket League Reward: Llama Flyer Antenna
Fortnite Reward: Rocket League Spray
CHALLENGE 2 - FLAGGED FOR VICTORY
Rocket League Challenge: Win 1 Online Match in Casual with the Llama Antenna
Rocket League Reward: Top Llama Topper
Fortnite Reward: Holodata Drop Contrail
CHALLENGE 3 - TOP OF THE WORLD
Rocket League Challenge: Get 5 goals, saves, or assists with the Llama Topper
Rocket League Reward: Loot Llama Octane Decal
Fortnite Reward: Rocket Groove Music Track
CHALLENGE 4 - AN EPIC ENDEAVOR
Rocket League Challenge: Win 5 Online Matches in Any Playlist with the Llama Decal (Octane)
Rocket League Reward: Llama Wheels
Fortnite Reward: Rocket League Emoticon
CHALLENGE 5 - LLAMA LEGEND
Rocket League Challenge: Get MVP in any Online Match with the Llama Wheels
Rocket League Reward: Battle Bus + Battle Balloon Antenna, Battle Bus Wheels, and Battle Bus Engine Audio
Fortnite Reward: Octane RL Backbling + style variant
It's easy to get your hands on these goodies. All Fortnite rewards will be automatically added to your locker the next time you load up the game after completing a challenge. In Rocket League, simply head to in-game Event Challenge Page to claim your prize.
This is a clever bit of promotion on Epic's part and is sure to drive a bunch of Rocket League downloads. I mean come on, who doesn't like a nice freebie?