1,200 players from across the globe will win some sweet gaming hardware this weekend by participating in an... interesting weekend tournament
In an effort to continue the anti-Apple awareness campaign amidst a high tension legal battle, Fortnite will be giving away roughly $1,000,000 worth of gaming hardware across the globe
How will you win? Eating as many apples as you can, funnily enough. In 2 days (August 23rd), Epic Games is hosting the "#FreeFortnite Cup." The tournament is set to span 4 hours and have a match limit of 12 games
All of your friends. Fabulous prizes. And one bad apple. We're droppin the #FreeFortnite Cup on August 23.

Check out our blog for full info: https://t.co/BFpiMQoWID

— Fortnite (@FortniteGame) August 21, 2020
While there is a tournament structure in place, the real prizes come from the whole "eating apples" part. The top 1,200 players (split proportionally among all 7 regions) who eat the most apples will win the following gaming hardware:
Alienware Gaming Laptop®

Samsung Galaxy Tab S7®

OnePlus 8®

PlayStation 4 Pro®

Xbox One X®

Nintendo Switch®
The apple eating contest will be divided into two categories: cumulative apples eaten and single game high score. 600 winners will be picked from both sides
The top prize up for grabs is an Alienware Gaming Laptop with an MSRP sticker price of $2,500, according to Epic Games. Practically all major devices that support Fortnite are being given away, less any devices under the Apple umbrella
Optimal "apple eating" strategy
There's a pretty straightforward strategy when it comes to the highest density apple location. The apple orchard just north of Frenzy Farm is your ticket to the dub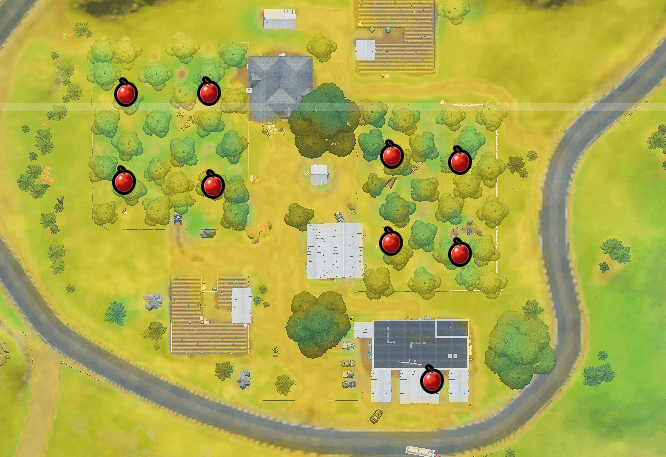 As you can obviously see, there aren't any other locations that come near the amount of apple spawns at the orchard. One other tidbit to remember: you need to have less than 100 white HP to be able to consume an apple. Jump off a 3 tile high structure to take just over 10 fall damage so you can continue gobbling down those potentially valuable fruit
Other prizes
Remember when I said there is still a tournament structure? Well the regular tournament structure unlocks other smaller prizes that are more widely available (despite being way less cooler than a new gaming rig)
Tournament structure:
Victory Royale: 10 points

Each Elimination: 1 point

Each three (3) minutes spent in a match while not eliminated: 1 point
If you get at least 10 points across your 12 games, you automatically receive the Tart Tycoon outfit. Here's a preview of how he looks:
Most players should be able to secure 10 points in 12 games. After all, simply being alive for more than 30 minutes across all games is 10 points alone. Just sit in a bush or something
If you perform exceptionally well and land top 20,000 globally (proportionally split by region), you will win a physical "Free Fortnite" hat which will be shipped globally
Full rules and regulations surrounding the #FreeFortnite Cup can be found here
Do you think you have what it takes to be an apple eating champion? Jump in the battle bus come August 23rd to claim your stake at greatness! Follow us on Twitter for more competitive updates!