With a staggering number of duos competing, EU was by far the hardest region to advance to Semi Finals in the console and mobile FNCS.
When Epic Games revealed that the Duos Fortnite Champion Series event would feature a separate track for console and mobile players, with an equal prize pool to those on PC, PS4 and Xbox gamers around the world couldn't believe their luck. However, the stats following week one of the FNCS tournament may leave some European entrants feeling slightly hard done by.
It's well known that EU is the region with the largest Fortnite player base, and therefore it is expected more teams will compete from here than anywhere else – hence the bigger prize pool. But the difference between them and other server areas this time round is pretty crazy.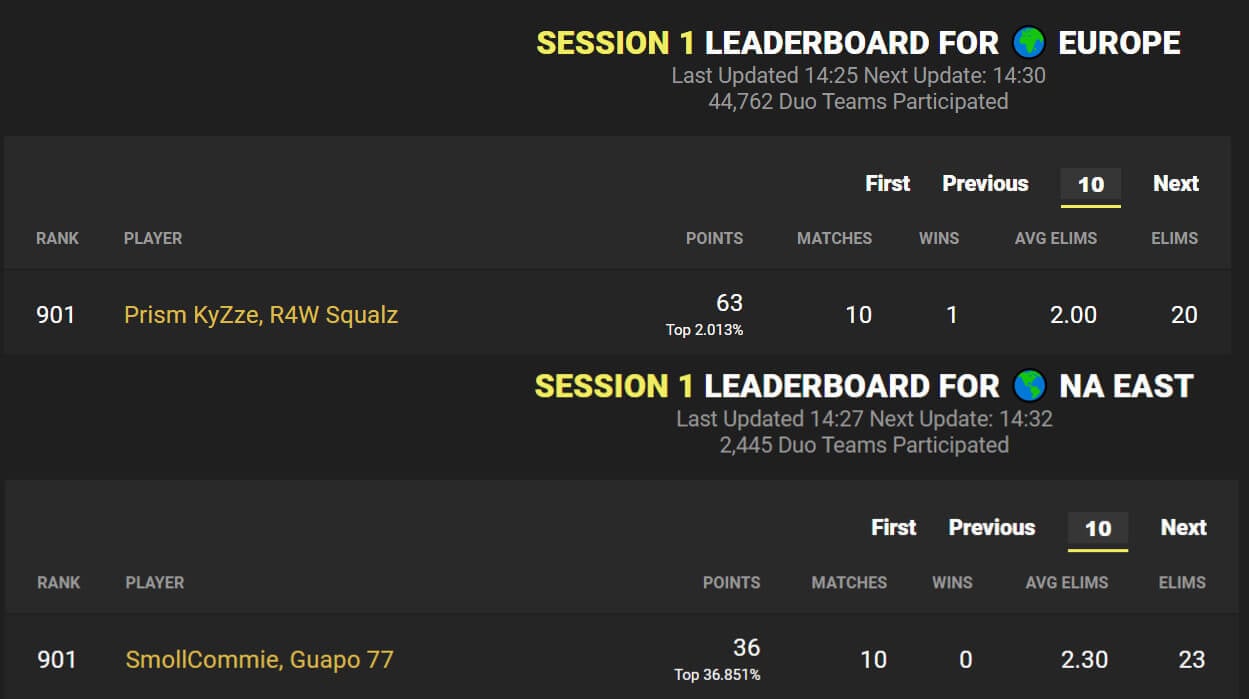 For round 1 of the FNCS Console and Mobile tournament this weekend, almost 45,000 duos took part in EU. Compare this to the second busiest region, NA-East, and they had only around 2.5k teams compete.
When you look at the points needed to progress from the initial open round to the semi-finals, this is where you see the impact. Despite the stark difference in numbers, still only the top 1000 teams make it through in EU, which is the same as NA-East, NA-West and Brazil. This meant that whilst those in Europe needed 63 points to be safe, those in NAE would require just 36, or 35 and a win.
There is an argument that having more teams enter means that the top EU console players just have an easier time racking up elimination points, but overall it's probably safe to say that it's a lot harder to make it to semis in Europe.
LETS GOOOOOOOO WE'RE TOO GOOD @rhoskiii pic.twitter.com/O6L0hGIst6

— vBlazified (@XypherBlaze) March 22, 2020
Whilst many will say that none of this matters, and that the good duos will qualify regardless of the competition, it's still interesting to see how the points needed vary between regions. Obviously, after the open round, semis and finals have the same number of teams involved, and hence the disparity in points isn't as noticeable.
Although not quite as drastic as console, week 1 of FNCS on PC also saw around 5 times more contestants in EU than on NAE. We saw the effects of this volatility this weekend with top pro duos like Aqua and Stompy, and Airwaks and Nikof not making it to the finals on Sunday.
It will be interesting to see how this changes throughout the coming weeks. It is likely that more teams will begin to make it to Champion Division in Arena, and therefore there will be even more duos fighting it out.